November 27, 2018
KLANG:technologies Appoints DV2 as Distributor for France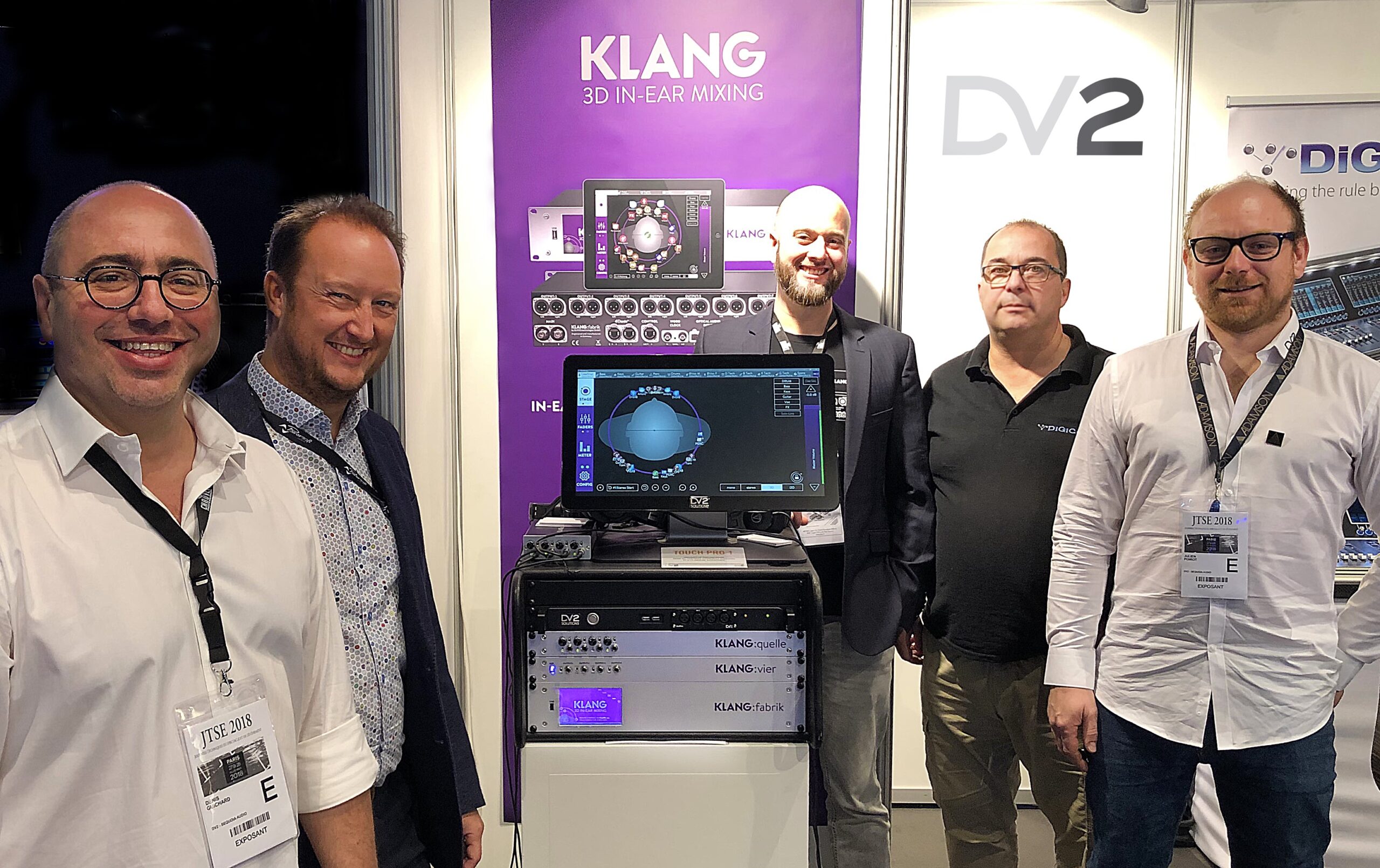 KLANG:technologies Appoints DV2 as Distributor for France
— PRESS RELEASE for immediate release —
KLANG, the German-based manufacturer of the world's first truly immersive 3D in-ear mixing technologies, is pleased to announce the appointment of DV2 as its exclusive distributor in France. Headquartered in Metz and having recently acquired a large new facility at Paris-Roissy,DV2 distributes key audio brands such as DiGiCo, DiGiGrid, Adamson and Wavecapture, as well as manufacturing and distributing its own in-house DV2 Solutions products. Founded by Didier Dal Fitto and Guy Vignet in 1997, both of whom describe themselves to be first and foremost, audio technicians, DV2 also offers a full technical support service to its rental and installation customers. A trusted and highly respected team from a range of audio backgrounds, DV2 came to the attention of KLANG's Head of Sales, Phil Kamp via the recommendations of a number of clients and partners:
"Over the last two or three years, various clients whose opinions I valued, mentioned that they thought DV2 would be a great fit for us. It says a lot about their reputation that a wide range of sources spoke so highly of them and so we made contact. It was clear that we were speaking not only to highly experienced and skilled professionals but to friendly, approachable and pragmatic people who genuinely recognised the value in what we create. DV2 is exactly the right representation for us in this unique and important market."
Guy Vignet, Managing Director at DV2 is excited by the prospect of adding KLANG:technologies to the DV2 portfolio:
"Our company has always been completely focused on offering the best possible tools to sound engineers. It is for this reason that we are home to exceptional brands such as Adamson loudspeaker systems and DiGiCo digital mixing desks. These are brands that have a clear vision of the future and are considered paragons of our industry. We have never seen ourselves as being in a race simply to add more brands to our portfolio but having experienced KLANG 3D technology, we knew immediately that it fitted perfectly with our philosophy.

KLANG's technology constitutes a real breakthrough in the field of in-ear monitoring and we are proud to have been chosen to distribute the brand. We look forward to supporting them as they continue to grow and supply solutions for major clients and events across France."
DV2 Technical Director Didier Dal Fitto shares his colleague's admiration for KLANG:
"What is amazing about KLANG's technology is that it is partially based on the HRTF principle that was launched decades ago but had so far only been used in military applications due to its high processing power demand. Thanks to KLANG, this technology is now available for in-ear monitoring, combining increased intelligibility and listening comfort with lower SPL working levels and a consequent reduction in ear fatigue. To sum it up in a phrase – a great benefit for artists and an ultimate tool for monitor engineers."
DV2 will officially introduce KLANG:technologies to the French market at the JTSE 2018 trade show in Paris. The company will then host series of workshops and seminars throughout 2019 to allow its customers a more in-depth appraisal of the KLANG experience.
About KLANG:
Headquartered in Aachen, Germany, KLANG:technologies is the world's first manufacturer of truly immersive 3D in-ear monitor mixing technologies. The company's core product, KLANG:fabrik, is a professional rack-mount monitoring mixing engine, specifically designed to be used with IEMs and provides musicians with individual, natural and three-dimensional sound.
About DV2:
DV2 France is part of a group of audio companies including DV2 Belgium and United Brands GmbH, Germany. Staffed by more than thirty enthusiastic and passionate audiophiles, the group is responsible for the distribution of an impressive portfolio of market-leading brands.