Manuals
:app menu – CONFIG > ROUTING
The audio source is shown on the left. The audio sink is shown in the top line. The white square with an arrow in it indicates that a particular source is connected to a sink.
The audio routing of  KLANG:fabrik/KLANG:vier uses channel blocks. Each block contains 8 consecutive channels of audio.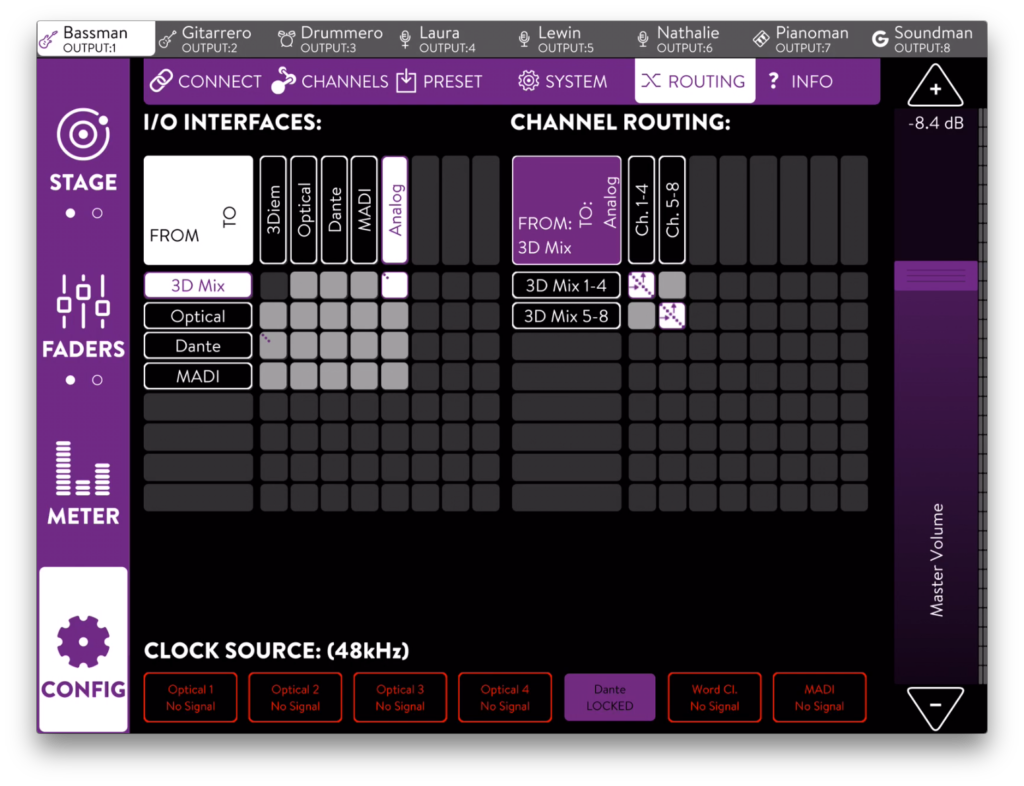 Firstly, we connect incoming audio streams inside KLANG:fabrik to the audio processor called 3Diem (top line). In the picture below we send the 3D mixes to all available outputs. The users' 3D audio mixes can then be routed to different sinks. Here we choose users 1-8 to appear on the analog stereo outputs. But you could imagine any output like shown in the picture above. Choose freely where you want to use the 3D headphone mixes. You can also route the different inputs (ADAT / Dante / MADI) to different audio sinks (ADAT / Dante / MADI and the Analog Stereo outputs) without using the 3D headphone mixes.

For KLANG:fabrik, an optional MADI BNC module is available. If installed, MADI will appear as FROM:/source and TO:/receiver in default configuration. The second MADI port which acts by default as an output can be configured to act as a second input (128 x 0 @48kHz | 64 x 0 @96kHz). In this configuration, two MADI sources will appear on the routing screen and no MADI output will be shown.

I/O channel configurations and the number of input channels and 3D in-ear mixes is shown in the CONFIG/SYSTEM menu.
:vier | Routing options
KLANG:vier only supports single speed sampling rates and has a fixed output routing scheme.
Routing in KLANG:vier is simpler than in KLANG:fabrik with less options. The input to the 3Diem DSP can be chosen from optical and Dante. Also mixed configurations (maching sample rates and sync required) are possible. The outputs of the DSP's 3D in-ear engine User 1–4 are in a fixed connection with Headphone outs 1–4 and the analog line level outputs of the SUB-D break-out. The outputs of all 5 users – 10 channels of audio – are also available on Dante channel 1–10.  optical inputs are also directly routed to Dante network, e.g. for recording purposes.
KLANG:fabrik – Routing Options
Clock Settings
Please ensure a correct Clock setting at the bottom of the view. Use one device as clock master and synchronize all other devices to this master. Please note that all digital outputs will be in sync with this master.
No resampling is used; therefore, all inputs and outputs have the same sampling rate and must be synchronized. Check the following color code to verify your clock settings: Red colored text means no signal, yellow represents signal with a different clock and purple shows signals with the same clock. Only inputs with a stable and locked clock are unmuted. Inputs with unlocked clock are muted to avoid audible artifacts.
You can choose between Optical 1-4, Dante and Word Clock (BNC Input) as MASTER. In KLANG:vier only Optical and Dante are available as clock sources. In case you are using Dante, we recommend to use Dante as the Clock master and sync everything to the Dante network, so you are able to check the clock status in Dante Controller. If you want to sync external devices e.g. via ADAT or BNC to KLANG:fabrik, choose Dante as clock master, and specify the sampling rate (44.1 or 48kHz) in Dante controller. Do not forget to activate "sync to external" and "preferred Master" in Dante Controller for this device so the Dante network will sync to this clock. We recommend this even if you do not intend to use Dante.