Manuals
In-Ear Mixing with Intuitive Control
How to mix the In-Ear sound musicians always ask for
Learn how to create stunning sounding individual mixes for up to 16 musicians simultaneously… Plug in your headphones and immerse into 360° audio with your own headphones or in-ears.
With KLANG 3D in-ear mixing technology it's so easy to create transparent in-ear mixes in seconds and make musicians happy. Often in-ear monitoring can be the best way to go, but the compromise of a stereo mix makes a lot of musicians feel isolated and insecure. KLANG:fabrik is the first breakthrough development for a natural and intuitive placement of sound with pristine sonic quality that lets musicians focus on their art — not on their monitor sound.
A look at the setup…
KLANG:fabrik can be easily integrated into existing live setups via Dante / AES67, MADI or ADAT compatible equipment.

While making the musicians happy with 3D in-ear mixing, KLANG:fabrik can also convert from all possible input sources to all available outputs with its intuitive routing matrix. With really transparent in-ear mixes, wedges become more and more a backup feature. If the band likes to record the show you only need to plug in your DAW laptop with Dante Virtual Soundcard and hand over the multitracks after they played the show of their lives.
Upgrade to a highclass monitor setup
We believe that a perfect monitor sound is key to a perfect live performance. "Once musicians played with KLANG's 3D sound they don't want to go back to stereo" says Monitor Engineer Pasi Hara from System of a Down. Testimonials –> many more…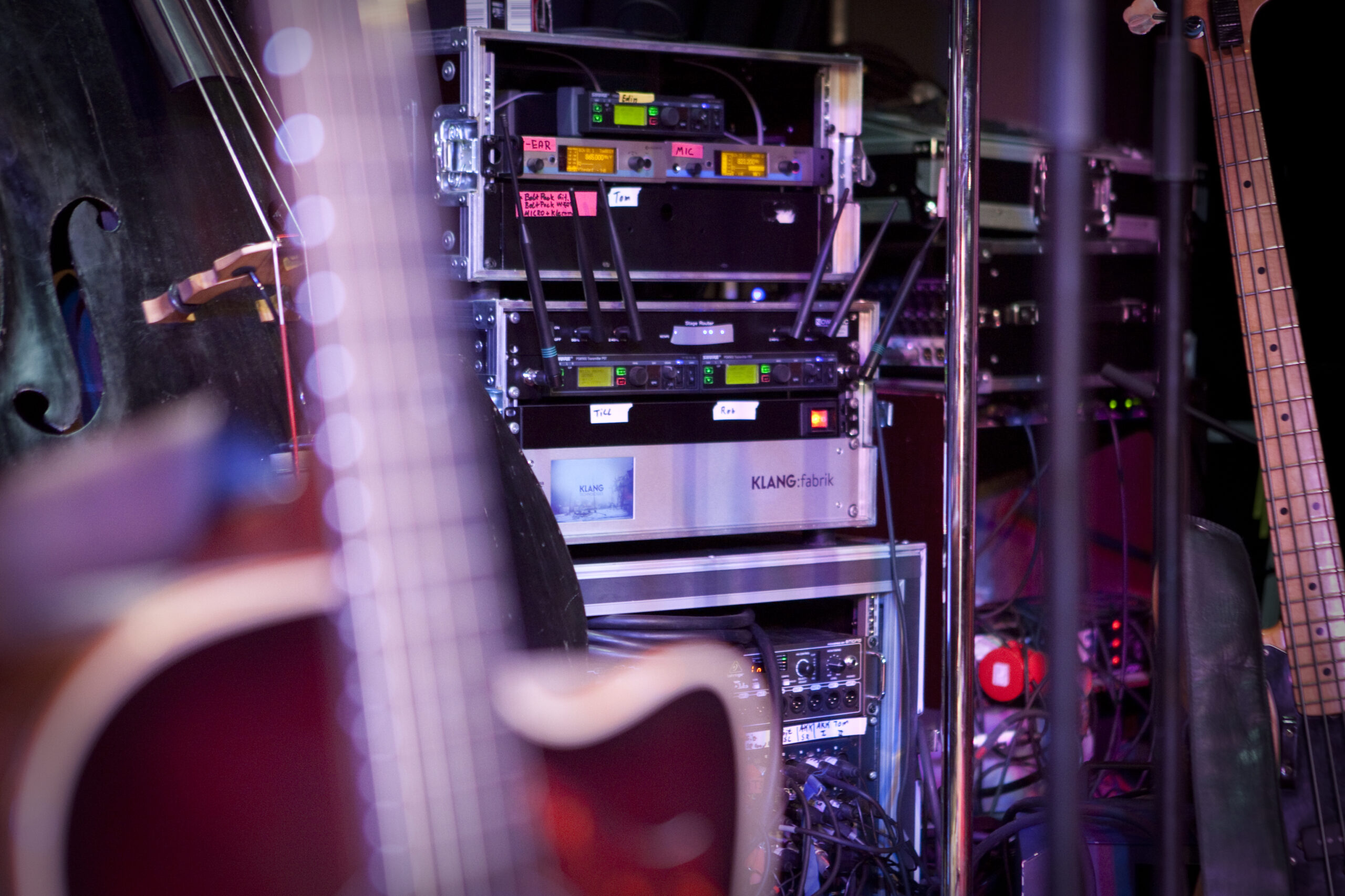 Upgrade your existing FOH console or even digital stage box, to become a real monitoring mixing console and a converter for recording or splitting purposes as well.
You will be surprised how intuitive KLANG:app is with its dedicated user modes. If your musicians like to control their sound – KLANG:app gives each musician access to their own mixes – without the fear of changing something for the audience mix. And the good thing is, the engineer can assist with the mix anytime.
Chat with us – now!
Talk directly to a KLANG product expert through the Chat Bubble below. We are happy to find out more about your band's monitoring setup and how you can benefit from KLANG 3D In-Ear mixing the next time you'll go on stage.
Get the App
Try out the immersive 360° degree headphone experience with the free KLANG:app. With the built-in demo mode, you can start mixing in 3D with your own headphones. Download now!
iOS (iPad, iPhone) | Android | Mac OS X | Windows