Manuals
Headphone level monitoring
THIS FEATURE IS DESIGNED TO ASSIST A QUALIFIED SOUND ENGINEER IN MONITORING PREDICTED HEADPHONE AMP OUTPUT VOLTAGES AND PREDICTED SOUND PRESSURE LEVELS THROUGH HEADPHONES.

KLANG CANNOT BE HELD NOT RESPONSIBLE FOR THE SETUP AND INCORRECT VALUES ENTERED BY THE OPERATOR OF THE SYSTEM.
Headphone level monitoring
[KKA-97] headphone level prediction and warning as overlay message
CONFIG > INFO > SET offers new menus:
Set Headphone Sensitivity
There are two formats or types of headphone sensitivities used my headphone manufacturers or in reference measurements (More info here…):
Sensitivity by Voltage in dB/V SPL (no impedance needed)
Sensitivity by Power in dB/mW SPL + Headphone impedance in Ohms
Both types yield the same predicted headphone volume.
Sensitivity by Voltage is sufficient to predict the headphone volume (SPL) when the amplifier output voltage is known. Sensitivity by Power is only useful in combination with the headphone impedance as Sensitivity by Voltage can be calculated based on both values.
Since both sensitivity types are used and often mixed up, it is recommended to not only rely on the manufacturers website but double check these values, e.g. by searching in headphone databases for the correct values.
For HD25 headphones this would be
120.4 dB/V SPL
109.2 dB/mW SPL @ 75.1 Ohms
For Audiotechnica ATH-M20x this would be as follows:
113.3 dB/V SPL
100.5 dB/mW SPL @ 51.8 Ohm
Monitor the digital levels or predicted headphone volumes in CONFIG > INFO:
Carefully check the physical units and make sure the entered values are correct. KLANG cannot be held responsible for these predicted values. The values are only predictions, the actual sensitivity of the used headphones might deviate from the reference measurements.

Analog Output Level reference to the output of :kontrollers headphone output in Volts. Three values are provided:

Theoretical Max. Analog Voltage: This assumes a full level digital output signal @ 0dBFS and considers headphone gain settings and :kontrollers volume knob.
Predicted Analog Voltage: This uses the current digital level sent to the headphone output and also considers headphone gain settings and :kontrollers volume knob.
Highest Output Level since start: The maximum "Predicted Analog Voltage" since :kontroller was booted.
dBV can be converted to dBu or Volts e.g. online converter on this website: https://www.extron.com/calculators/db-to-volts/?tab=tools
Set Headphone Volume Warning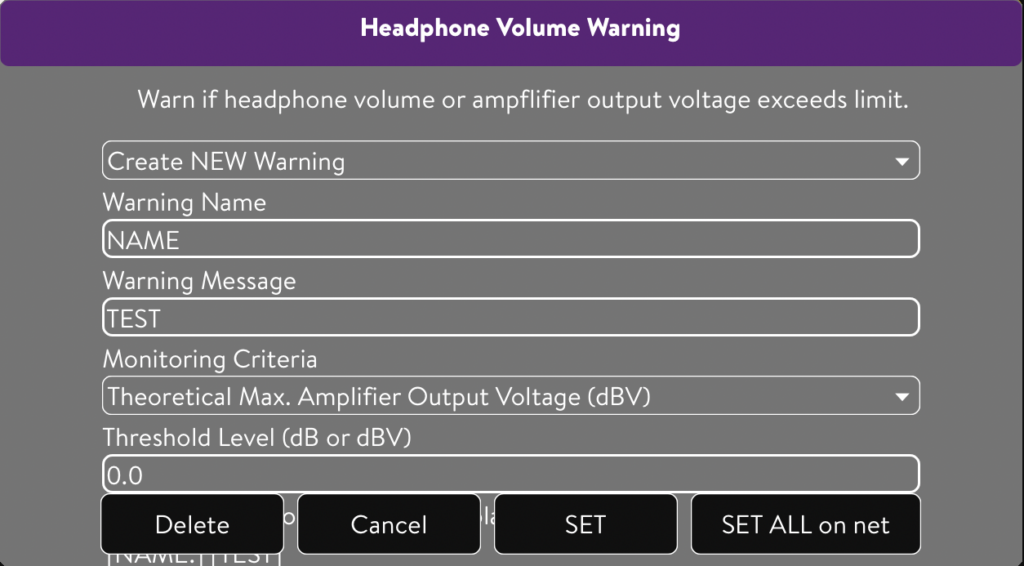 Export Headphone Volume Warning
Save current warnings as a file on computer.
Improved Headphone Gain Structure
On :kontroller a +12dB Digital Mix Boost helps to improve the gain structure [KKA-214]. This might be useful when a mix with low levels is sent to :kontroller and the used type of headphones does not offer a high sensitivity.