September 27, 2016
KLANG:fabrik Wins Gold in 2016 PLASA Awards for Innovation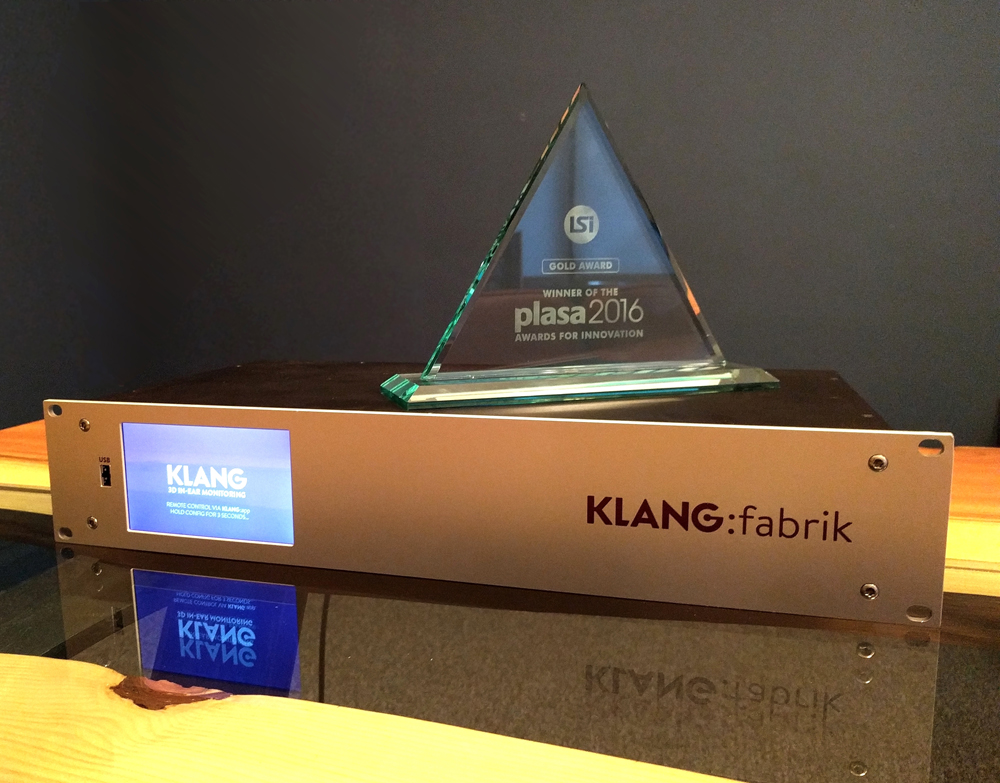 Reproduced from the article 'Winners of the PLASA Innovation Awards 2016 Announced' by LSI Online
London, UK — 20th September, 2016 — Sponsored by Velta, the 2016 PLASA Awards for Innovation took place in the Apex Room at the end of an extremely busy Monday at this year's PLASA Show. Hosted by PLASA's new managing director Peter Heath and presented by PLASA Chairman Ed Pagett, the awards aim to recognise and reward outstanding new product ideas.
The Awards garner a huge amount of respect because they are independently and impartially judged by an invited team of industry experts.
To win an Award for Innovation, a nominated product had to satisfy the chairman of judges that it met the criteria for Innovation by clearly showing that it demonstrates a new style of thinking; improves technical practice; introduces new technology, new materials or new techniques; includes patents or unique intellectual property; offers a new commercial advantage, or improves safety.
One product impressed the judges enough to merit a Gold Award, which recognise products that stand out above the others in the field of nominations.
The Gold Award went to KLANG for its KLANG:fabrik device, which was shown by their UK sales partner, HD Pro Audio.
The Judges decided that this was the first time that binaural monitoring has been successfully implemented in a practical and cost-effective solution. It was felt that it will be a popular addition to many shows.
To read the full article 'Winners of the PLASA Innovation Awards 2016 Announced' by LSI Online visit https://bit.ly/2cvDuwD
---
About KLANG:technologies
Headquartered in Aachen, Germany, KLANG:technologies is the world's first manufacturer of truly immersive 3D in-ear monitor mixing technologies. The company's core product, KLANG:fabrik, is a professional rack-mount monitoring mixing engine specifically designed to be used with IEMs and provides musicians with individual, natural and three-dimensional sound that leaves them speechless. The free KLANG:app is the control device and has a clean and simple user interface for personal monitoring.
About HD Pro Audio
HD Pro Audio is a leading UK supplier of professional audio, video and lighting. Based in Shepperton, Surrey, HD Pro Audio covers the whole UK and is ideally located for London and the Home Counties. They distribute all major audio, video and lighting brands and always determine the best products for the needs of their customers, supplying any or all parts of a system and the knowledge for putting it together. HD Pro Audio offers industry-leading expertise in live and installed audio systems, mixing consoles, loudspeaker system design, networking and recording.
Links
Press Contact
---