July 25, 2016
CS Audio Uses KLANG:technologies 3D IEM for Heritage Orchestra with Massive Attack at BST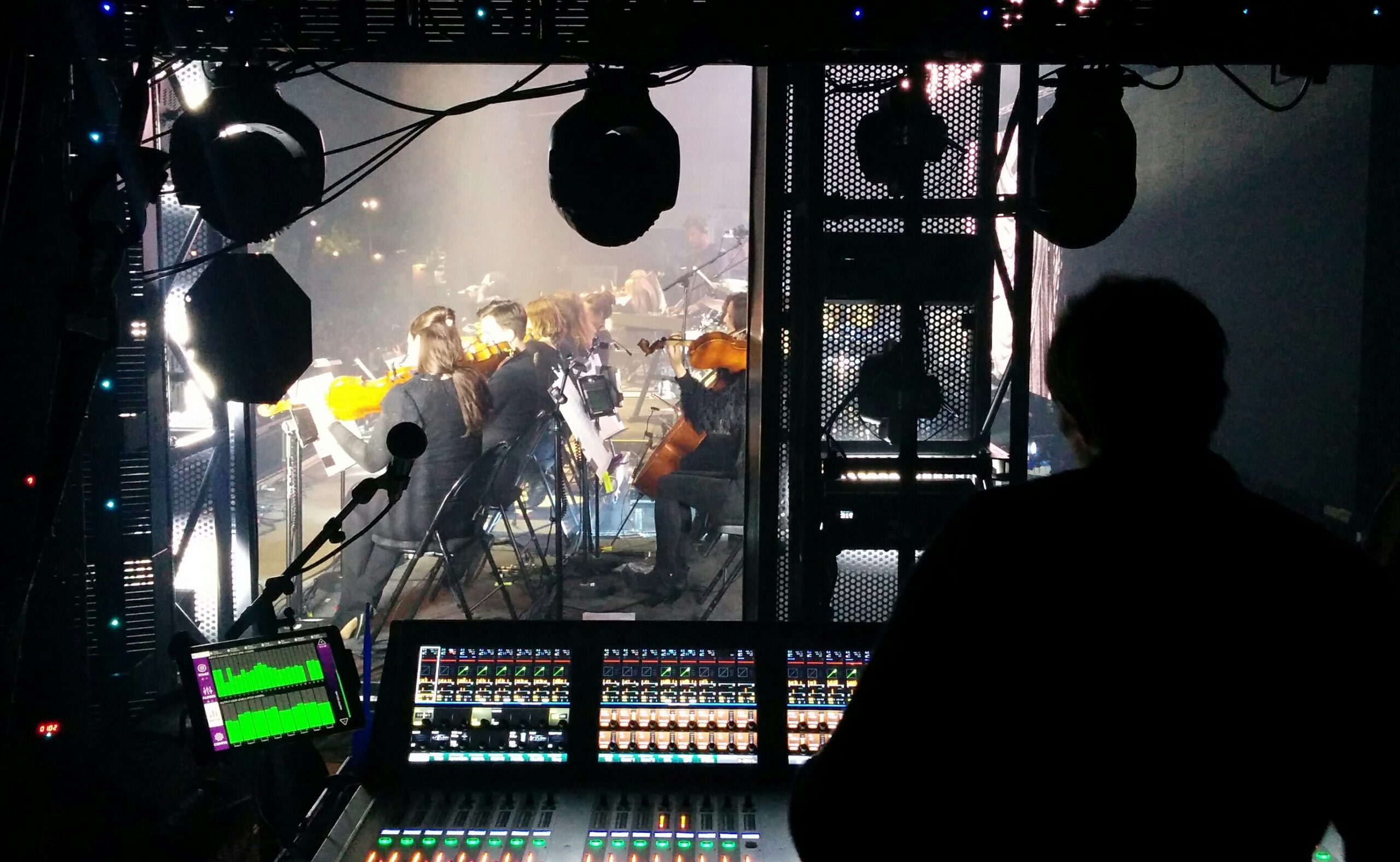 – For immediate release – Click here for GERMAN version/Deutsche Pressemitteilung weiter unten…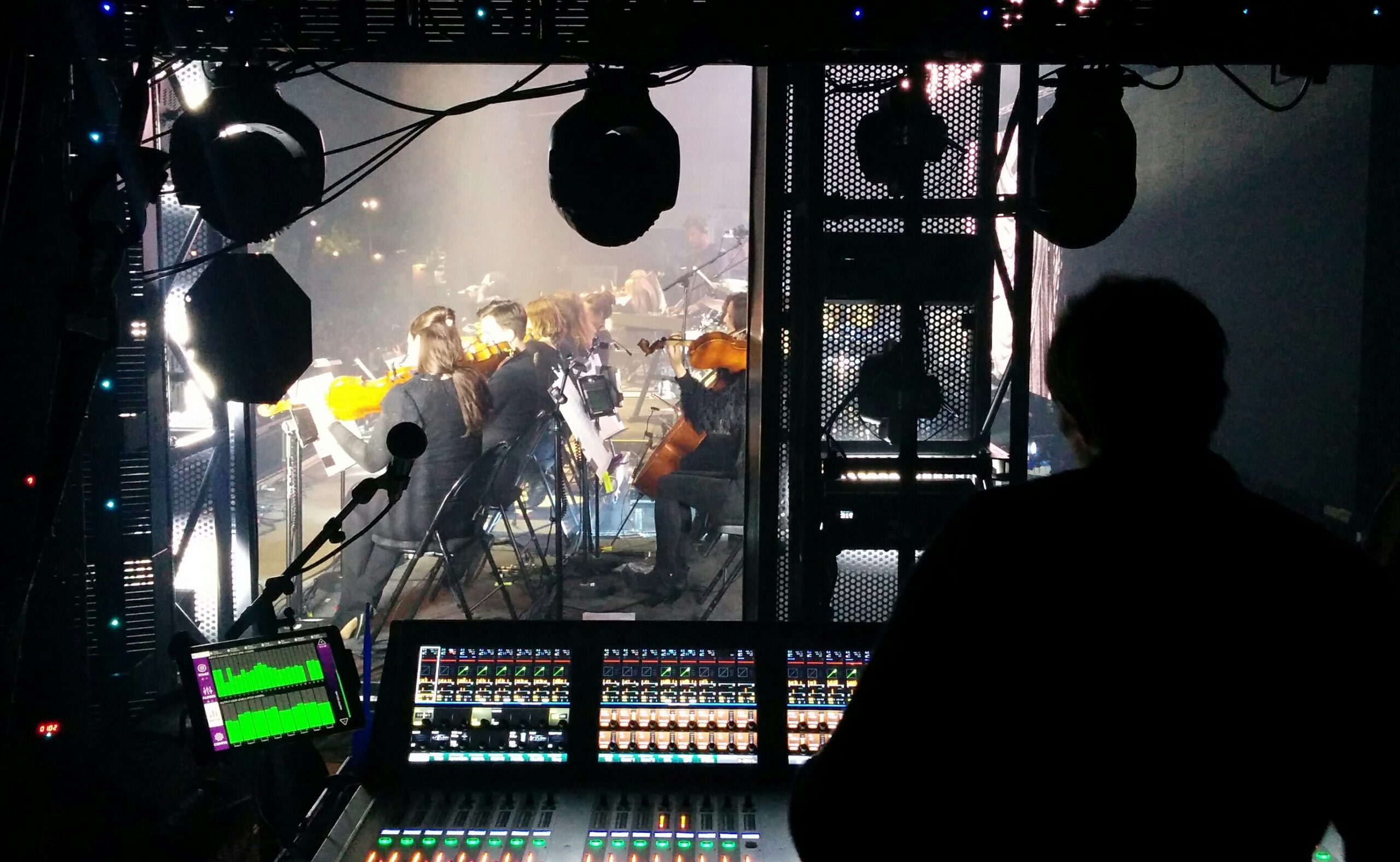 CS Audio Uses KLANG:technologies 3D IEM for Heritage Orchestra with Massive Attack at BST
SHEPPERTON, UK — June 25th, 2016 — Servicing tours with Clean Bandit, Laura Mvula and Massive Attack, CS Audio engineered for Massive Attack at their BST gig in Hyde Park in July. The sound equipment hire company has a strong emphasis on touring control and monitor packages, and particularly IEM's due to company MD Paul Hatt also being a monitor engineer.
KLANG:technologies 3D IEM system had been on Hatt's radar following a discussion with Andy Huffer of HD Pro Audio, the UK distributor of KLANG:technologies. Huffer had loaned a KLANG:fabrik system for a short UK tour but, due to time constraints with late load-in's and no sound checks, Hatt didn't get a chance to fully audition the system. However, he was suitably impressed with both the overall sound and build quality of the unit, commenting, "It felt like a solidly engineered product, with dual redundancy and a generous amount of output mixes. Aside from the 3D possibilities of the system I could immediately see the benefit of musicians controlling their own mixes wirelessly via the KLANG:app."
Hatt continued, "On the Massive Attack tour we were joined by the Heritage Orchestra for the Hyde Park show and were requested to provide sixteen personal monitor stations. So this was the ideal opportunity to fully prove the KLANG:technologies system and two KLANG:fabrik units were brought in, along with a router, sixteen iPads and sixteen Shure P6 hard-wire IEM systems, fully prepped and supported by HD Pro Audio's Tom Turner."
Hatt explained the simple operation, "System set-up is very straightforward and it talked to my Soundcraft Vi console via the Dante interface with no issues. I sent a stereo band mix to the KLANG:fabrik along with groups of first and second violin, viola, cello and bass, and a direct out of each string line. This allowed each orchestra member to maintain control over their own level and get the desired blend with the rest of the string sections and the band."
The weather on the day didn't help, as Hatt explained, "What limited time we had for sound check and rehearsal on the day was delayed further by heavy rainfall in the morning. The musicians were understandably reluctant to get their valuable instruments out in less than ideal weather conditions, so overall I was very impressed with the speed with which the system achieved the desired results. After a short demonstration the musicians seemed to get acquainted with the system very quickly. I didn't see any puzzled looks in using the KLANG:app. In fact I didn't receive any requests from them at all. It's an intuitive user interface, and we received nothing but positive comments from the users on the day."
Hatt concluded, "I see it as two systems in one. It proved its worth to me as a high end wireless personal monitor control solution, but also the 3D image processing is quite something else. I solo'd a few output mixes by selecting the corresponding Dante return on a couple of free stereo input channels on the desk during the show. At one point I hit the cue bus and immediately physically spun around to look behind me as I was certain there was a group of cellos behind me; the spatial image was so real and beyond conventional stereo. It's a great product – and lots of fun."
---
About KLANG:technologies
Headquartered in Aachen, Germany, KLANG:technologies is the world's first manufacturer of truly immersive 3D in-ear monitor mixing technologies. The company's core product, KLANG:fabrik, is a professional rack-mount monitoring mixing engine specifically designed to be used with IEMs and provides musicians with individual, natural and three-dimensional sound that leaves them speechless. The free KLANG:app is the control device and has a clean and simple user interface for personal monitoring. KLANG:technologies' products are now exclusively distributed in the US by Group One Ltd. of Farmingdale, NY.
About HD Pro Audio
HD Pro Audio is a leading UK supplier of professional audio, video and lighting. Based in Shepperton, Surrey, HD Pro Audio covers the whole UK and is ideally located for London and the Home Counties. They distribute all major audio, video and lighting brands and always determine the best products for the needs of their customers, supplying any or all parts of a system and the knowledge for putting it together. HD Pro Audio offers industry-leading expertise in live and installed audio systems, mixing consoles, loudspeaker system design, networking and recording.
Links
Press Contact
Massive Attack im London Hyde-Park mit KLANG:fabrik 3D In-Ear Monitoring
SHEPPERTON, UK — 25. Juni 2016 — Als Dienstleister bei Touren von u.A. Clean Bandit, Laura Mvula und Massive Attack, hat CS Audio aus UK die Formation "Massive Attack" im Juli bei ihrem BST Konzert im Hyde Park betreut. Der Schwerpunkt des Tontechnikverleihers liegt auf Tour Support  und Monitor-Technik mit speziellem Fokus auf IEMs, was der Tätigkeit von Paul Hatt als Monitor-Techniker zuzuschreiben ist.
KLANG:technologies und das 3D In-Ear Monitoring System war nach ersten Gesprächen zwischen Paul Hatt mit Andy Huffer von HD Pro Audio — dem britischen Vertrieb von KLANG— bereits auf dessen Radar. Eine kurze Leihgabe einer KLANG:fabrik für eine andere Tourproduktion ging voraus. Allerdings hatte Hatt damals aufgrund fehlender Soundchecks und zu knapper Zeitpläne nicht die Möglichkeit, das System ausgiebig zu testen. Dennoch war er direkt von den Soundmöglichkeiten sowie der Hardwarequalität beeindruckt und sagte: "Es ist ein solide produziertes Produkt mit doppelter Redundanz, sowie großzügiger Anzahl an Outputs und Mixes. Neben den 3D-Möglichkeiten konnte ich sofort den Vorteil darin sehen, wenn Musiker ihre eigenen Mixes kabellos mit der KLANG:app kontrollieren."
Monitortechniker Hatt fügte hinzu: "Für die Show im Hyde Park der Massive Attack Tour stieß das Heritage Orchestra zu uns. Es fragte 16 Personal-Monitoring-Stationen an. Das war die ideale Gelegenheit die KLANG:fabrik auf die Probe zu stellen. Zum Einsatz kamen zwei KLANG:fabriken, ein Netzwerkrouter,16 iPads mit KLANG:app, sowie entsprechende, kabelgebundene Shure P6 — eine optimale Vorbereitung durch Tom Turner und HD Pro Audio."
Die Einfachheit der Handhabung beschreibt Paul Hatt wie folgt: "Das Setup des Systems ist sehr einfach und wurde via Dante komfortabel mit der Soundcraft Vi-Konsole verbunden. Ich schickte einen Stereo-Mix der Band, zusammen mit Gruppen der ersten und zweiten Violine, Bratsche, Cello und Bass, sowie einen direkten Output jeder Streicherreihe. Das gab jedem Orchestermusiker die Möglichkeit die Kontrolle über die Lautstärke des eigenen Instruments, sowie die gewünschte Mischung mit dem restlichen Streicherensemble und der Band zu erhalten."
Das Wetter sei am Tag des Konzertes keine Hilfe gewesen steuert Hatt bei: "Die kurze Zeit, die uns für Soundcheck und eine Probe verbliebt, wurde durch Starkregen am Morgen weiter drastisch verkürzt. Die Musiker waren verständlicherweise zurückhaltend ihre wertvollen Instrumente bei den widrigen Wetterbedingunen herauszuholen. Umso mehr beeindruckte mich, wie schnell wir mit der KLANG:fabrik die gewünschten Ergebnisse erzielen konnten. Nach einer kurzen Demonstration waren die Musiker direkt mit der Bedienung vertraut. Es gab tatsächlich keinerlei Rückfragen. Es ist eine so intuitive Benutzeroberfläche. Wir haben über den Tag verteilt ausschließlich positive Rückmeldungen der Musiker bekommen."
Abschließend sagt Hatt: "Ich sehe es als zwei Systeme in einem. Einerseits ist es ein kabellos fernsteuerbares High-End Personal-Monitor-System. Auf der anderen Seite ist der 3D-IEM-Prozessor wirklich etwas Besonderes. Ich habe die Mixes abgehört indem ich den entsprechenden Dante-Rückweg auf einen freien Stereo-Input der Vi-Konsole legte. Als ich an einer Stelle den CUE-Bus anwählte habe ich mich dabei ertappt als ich mich sprungartig umdrehte und hinter mich schaute. Ich war mir ganz sicher, dass da eine Gruppe Cellos direkt hinter mir gewesen wäre. Die räumliche Darstellung ist so realistisch und dem konventionellen Stereo-Mix weit überlegen. Es ist ein tolles Produkt und macht eine Menge Spaß!"
Links
www.hdproaudio.co.uk
www.KLANG.com/
www.csaudio.co.uk
Pressekontakt
Derek West
derekw@marqueeav.com
+44 (0) 1784 433 687