March 23, 2016
KLANG:technologies Inks US Distribution Agreement With Group One Ltd.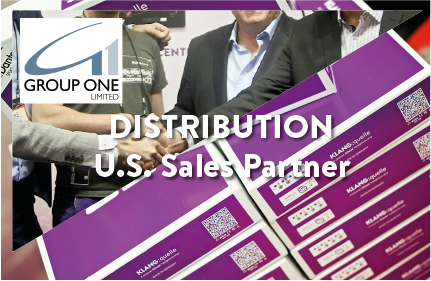 PRESS RELEASE
–for immediate release–

3D in-ear monitor mixing innovator taps DiGiCo's and Avolites'

domestic distributor to carry the brand forward in North America
FARMINGDALE, New York — March 2016 — KLANG:technologies GmbH of Aachen, Germany announces that it has very recently appointed Group One Limited of Farmingdale, New York to serve as its exclusive product distributor for the United States and Puerto Rico. The announcement comes from KLANG:technologies Founder and Chief Marketing Officer Pascal Dietrich.
"Group One is the perfect distribution partner for KLANG in the States," says Dietrich. "In addition to having one of the industry's most active and effective sales and marketing teams, they have a deep knowledge base and highly attentive support effort for all of the products they represent. That's why Group One has such an extensive network of top acts, engineers, houses of worship and AV consultants using their brands' products; they're literally everywhere that quality sound matters."
Group One President Jack Kelly agrees. "We have deep relationships with both engineers and rental companies and are ideally suited to introduce KLANG to the US touring market. Additionally, we have a very active business in the House of Worship market, which we believe can greatly benefit from KLANG's technology."
In addition to now servicing KLANG:technologies—including the company's core product, KLANG:fabrik—Group One Limited is widely known throughout the North American pro audio and lighting markets as the US distributor for several other iconic brands, including DiGiCo digital mixing consoles and Avolites lighting control desks, among others.
"I think that we have just scratched the surface in the US," Dietrich adds. "This is the beginning of a strong partnership and exciting journey of forever changing the way that people will mix in-ear monitors. We see KLANG as a great fit within Group One's product portfolio and believe that the era of a silent stage begins here and now."
About KLANG:technologies
Headquartered in Aachen, German, KLANG:technologies is the world's first manufacturer of truly immersive 3D in-ear monitor mixing technologies. The company's core product, KLANG:fabrik, is a professional rack-mount monitoring mixing engine specifically designed to be used with IEMs and provides musicians with individual, natural and three-dimensional sound that leaves them speechless. The free KLANG:app is the control device and has a clean and simple user interface for personal monitoring. KLANG:technologies' products are now exclusively distributed in the US by Group One Ltd. of Farmingdale, NY.
About Group One Ltd.
Group One Ltd. is a US importer and distributor for a number of professional audio and lighting manufacturers. The company's audio division currently distributes Blue Sky powered nearfield monitors, DiGiCo digital mixing consoles, KLANG:technologies 3D in-ear monitor mixing solutions, MC2 high quality innovative amplifiers, and XTA digital signal processing equipment. The lighting division currently distributes Avolites lighting control consoles, elektraLite controllers and intelligent lighting, and Pulsar LED lighting.
---
Reader contact:
KLANG:technologies / Group One Ltd.
70 Sea Lane, Farmingdale, NY 11735
Tel: 516.249.1399 / Fax: 516.249.8870
Email: sales@g1limited.com
Web: www.g1limited.com / www.klang.com
Editor contact:
Chris Shuler, Public Address
Tel: 269.815.5055 / Cell: 574.514.7131
Email: christophershuler@comcast.net