Manuals
Export & Import via iTunes File Sharing


Step 5 – (Optional) Upload Your Own Multitracks to KLANG:app
Besides presets Multitracks can be uploaded to KLANG:app to be rendered on the iOS devices directly. Up to 24 mono channels in 44.1kHz in M4A, WAV or MP3 format. You will find example multitrack files including a preset XML below.
–Before uploading new multitrack files to your iOS device, please make sure that KLANG:app is fully shut down before you proceed. Otherwise, the new files will not be shown until you relaunch KLANG:app!
File names have to meet the following naming convention:
<TrackName> – <ChannelIndex> – <OptionalChannelLabel>.<FileExtension>
Example without <OptionalChannelLabel>:
<TrackName> = "TheAlgorithm"
<ChannelIndex> = "01", "02", …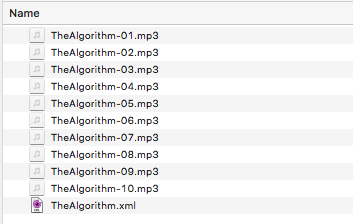 <FileExtension> = "mp3"

Example including <OptionalChannelLabel>:
<TrackName> = "Silence"
<ChannelIndex> = "01", "02", …
<OptionalChannelLabel> = "Timpani", "Piano", …
<FileExtension> = "m4a"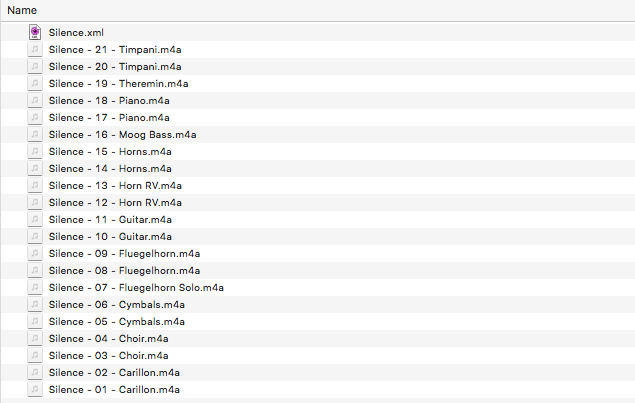 –Please note: the XML file is not required and will be generated automatically when importing the files.
Your File Sharing for KLANG:app Documents should now look similar to this screenshot: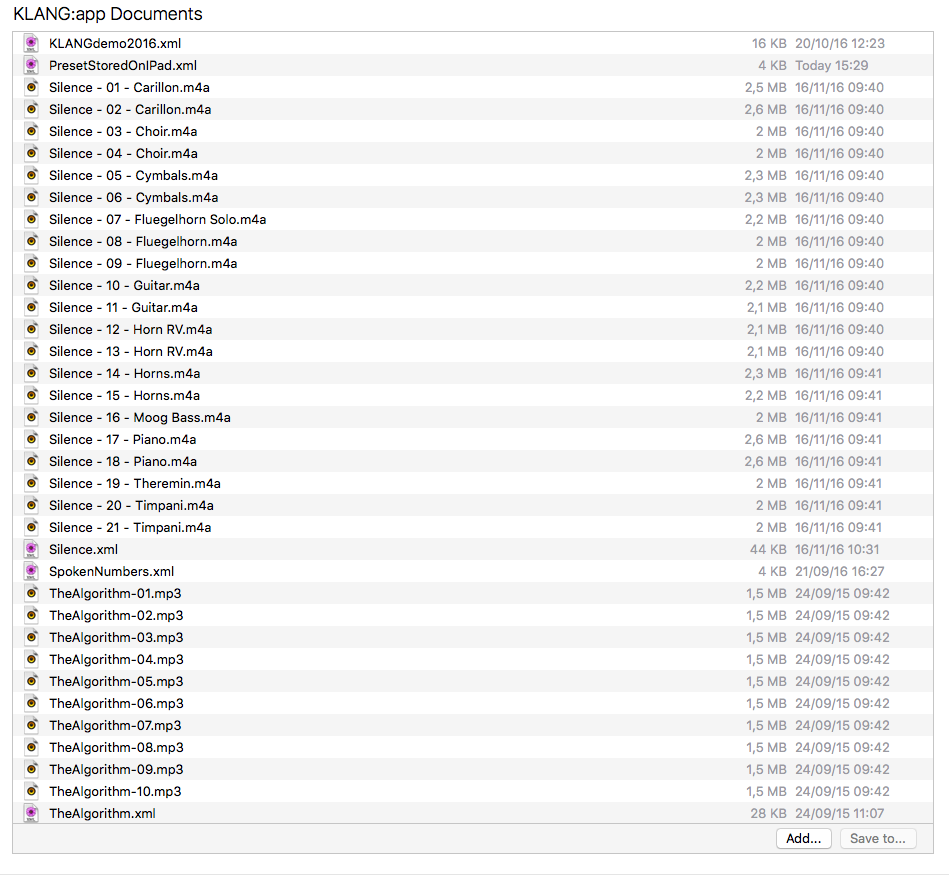 Now restart KLANG:app and choose the multitrack song for the drop down menu:
Step 6 – (Optional) Save Preset for Multitracks
When no XML file was uploaded with your multitracks, you can save a preset with KLANG:app (KLANG:fabrik and KLANG:vier are not required for this).
Go to CONFIG -> PRESET and enter the Preset name that should exactly match <TrackName> from your multitrack files. In this way, KLANG:app will automatically associate the preset file with the song and load it the next time you click on the song.
Export u0026 Import via iTunes File Sharing
Preset Exchange and Multitrack Upload to iPad & iPhone
For iOS devices KLANG:fabrik and KLANG:vier presets can be exported and imported from and to iPad and iPhone via iTunes Filesharing. You only need to connect the iOS device with your computer running iTunes.
––We recommend to backup user settings such as presets regularly, not only from KLANG hardware to a device running KLANG:app but also to a USB drive and to exchange presets via Email.
Step 1 – Connect cable
Connect a lightning or 30pin cable between your iOS device and your computer running iTunes.
Open iTunes.
Step 2 – iTunes settings
In the standard iTunes window click on the iPad or iPhone sign as shown in the screenshot below.

––Please note: You might need to enter your iOS devices passcode and unlock the device first before you can proceed.
Step 3 – File Sharing
On the left side below your iOS device's name click on Apps.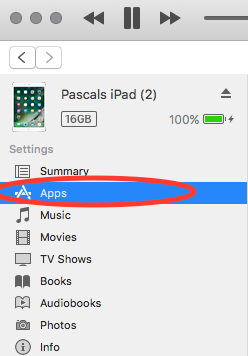 On the right side of the iTunes window scroll down until you reach File Sharing.


Step 4 – Drag&Drop Preset Files
You can drag&drop files from the KLANG:app Documents list and save them on your computer and vice versa. The XML files contain preset and snapshot data and can be exchanged between KLANG:apps on different devices e.g. by email or file transfer and they can also be imported and exported via KLANG:fabrik's and KLANG:vier's USB port.