Manuals
Activate Kiosk Mode for KLANG:app on iPad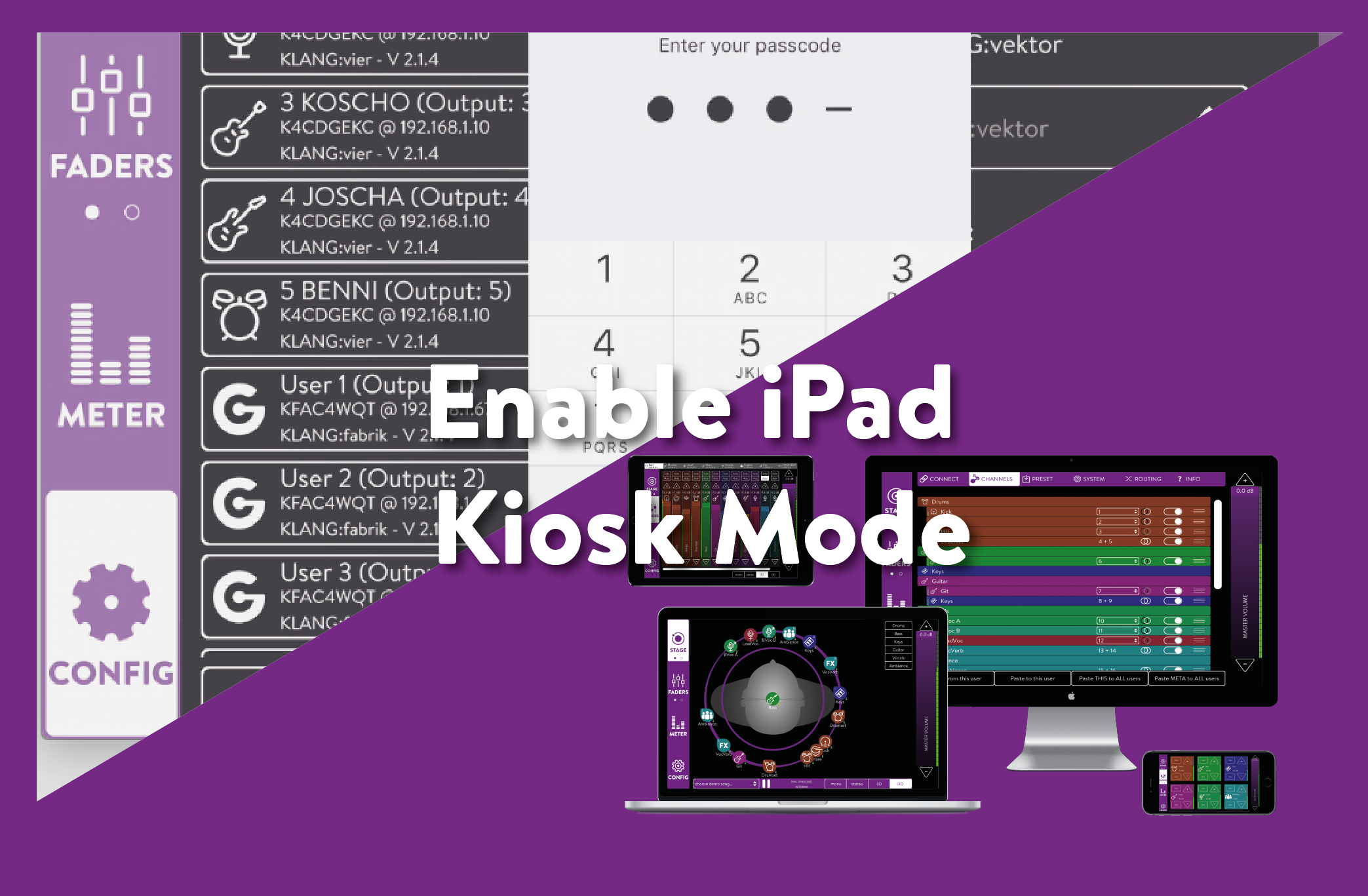 Step 1: General Settings
Go to your iPad's home screen and click on Settings.
Go to the menu General on the left side and choose Guided Access on the right side.

Enable Accessibility Shortcut.
Go to Passcode Settings and enter your preferred passcode (this is only for the Kiosk mode / Guided Access mode).

That's it for the preparation. Now you can activate the Guided access mode in all applications running on your iPad.
Step 2: Start the Guided Access Mode
Enter the Guided Access Mode by Pressing the Home Button quickly for 3 times. A message appears for some seconds on the screen. Now the Apps cannot be switched anymore, so the focus stays on KLANG:app only. 

To stop the Guided Access mode, click the Home Button quickly for 3 times again. Enter your Passcode.
A new screen appears. Choose End to stop the Guided Access Mode.
Step 3: Fine Tuning
We can now go into details and you may or may not adapt this to your workflow. The Idea is to limit the access, e.g. for a tradeshow where customers might play around with KLANG:app.
Touch has to be enabled of course. We don't use Time Limit.
In the same screen, choose Hardware Buttons to enable or disable them. We suggest to only use Motion (for Motion tracking in i3D mode) and Keyboards (e.g. change channel labels).
Furthermore, it is possible to mark areas of the touch display to be nonresponsive. This is particularly useful, if you are e.g. in Musicians Mode and want to prevent that musicians can enter Admin Mode or change their mix. In the following example we just touch and draw a rectangle over the CONFIG button.
Click on Resume to continue with the Guided Access mode. You will notice the transparent rectangle.
Read more on how to use KLANG:app here…
---
Thanks for using KLANG gear. We hope you find this tutorial helpful. Please let us know, what connection examples you want to read about next — contact@KLANG.com
—END—