Manuals
ADAT to Dante Routing Feature for KLANG:vier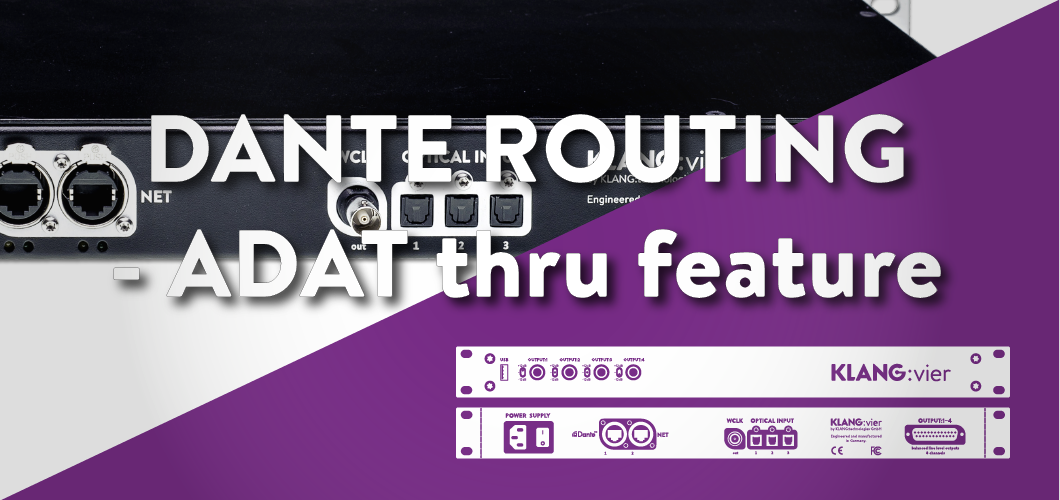 Record and Route 24 Channel ADAT Inputs via Dante with KLANG:vier
With the ADAT compatibility of KLANG:vier you can use 3D mixes without the need for an Dante mixing console or expansion card. Since KOS 2.2.1 KLANG:vier always routes the incoming optical signals (ADAT 1-24) to be available to the Dante network on channels 17–40.
Especially for productions where ADAT is already available, this feature enables an easy way of routing those incoming signals into a Dante network. For example, you can use a Stagebox with ADAT Outputs and record those signals directly via Dante Virtual Soundcard.
What you need
KLANG:vier
Mixing Console with ADAT Outputs/expansion card or Stagebox with ADAT Outputs
Dante Virtual Soundcard (DVS) – for recording via Dante
Digital Audio Workstation (DAW, e.g. Logic Pro, ProTools, Reaper) – for recording via Dante
Please make sure that your network switches are suitable for Dante and AES67. Yamaha provides a guide on switches and network cables. Also check your optical cables for proper ADAT connection.
Working with the ADAT thru inputs via Dante
Firstly, route the incoming ADAT signals (Optical, Ch. 1-8, Ch. 9-16, Ch. 17-24) to the KLANG:vier 3D headphone mix sinks (3Diem, Ch. 1-8, Ch. 9-16, Ch. 17-24).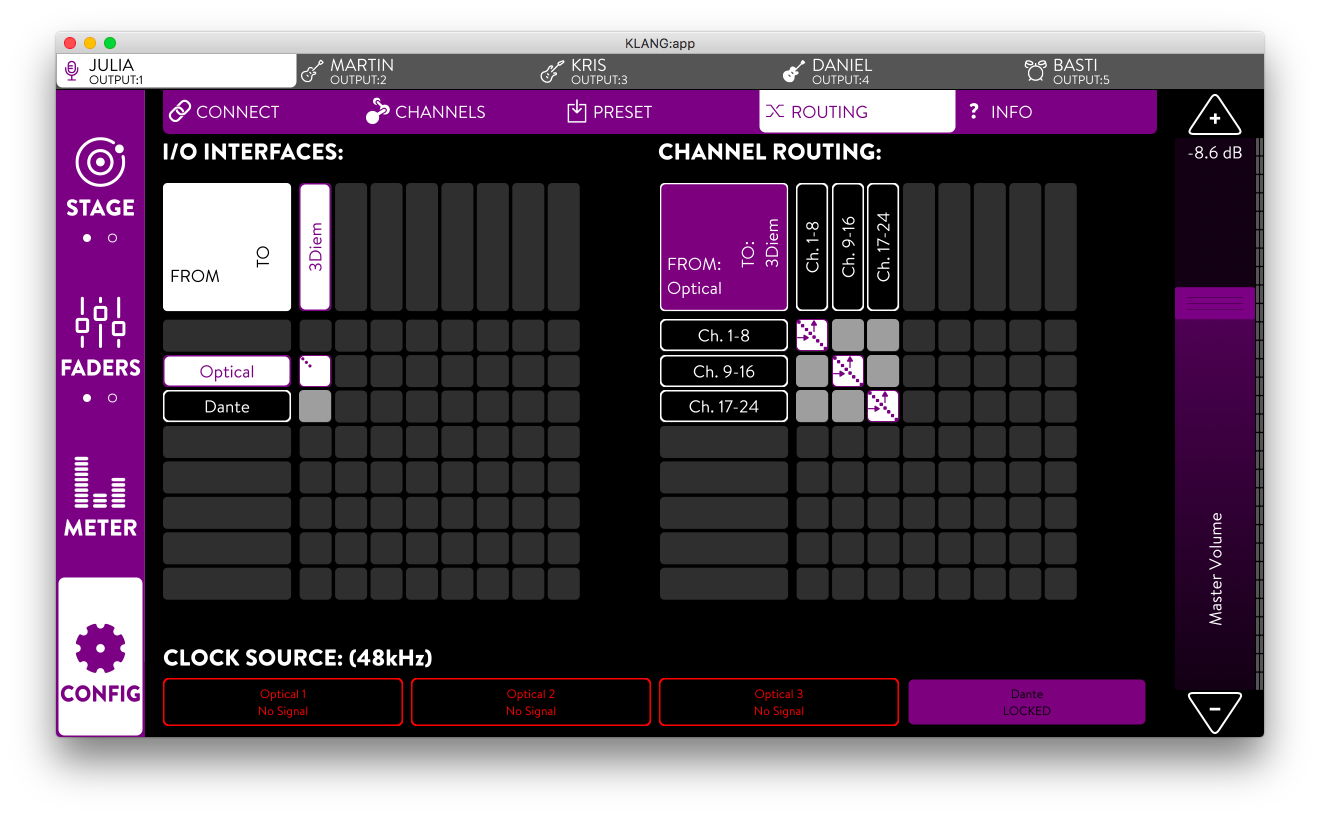 The ADAT inputs are always routed to the Dante channels 17-40 (8 Dante channels for each ADAT line). You will see them in the Dante Controller application. The Dante channels 1-10, coming out of KLANG:vier are the five 3D headphone mixes.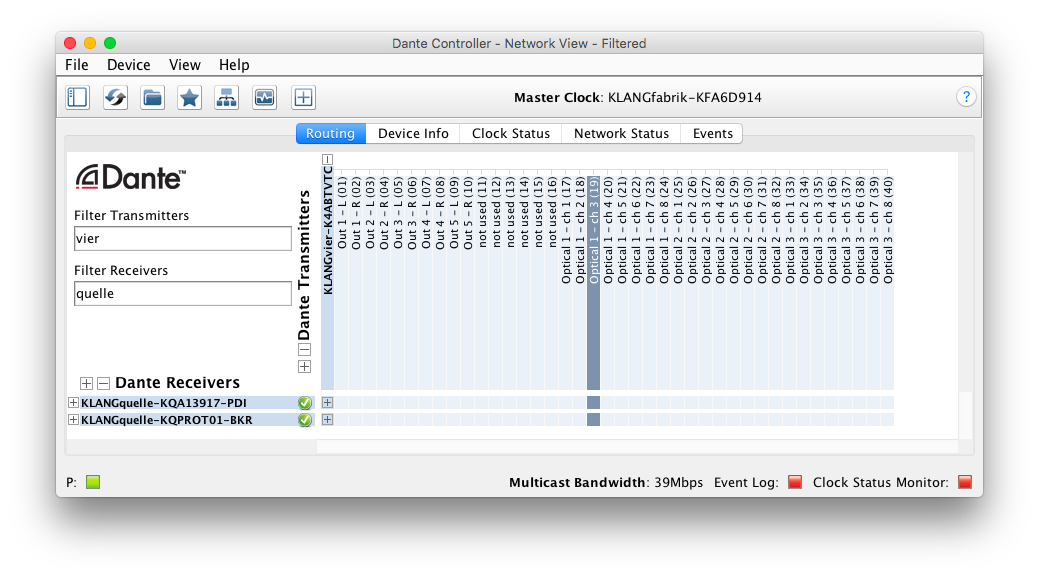 From there on you can route the incoming ADAT signals with Dante Controller.
If you need help with Dante routing setups, check out our Dante Routing page.
Recording the incoming ADAT signals via Dante
One scenario that is enabled with the ADAT thru feature is the recording of those inputs with Dante Virtual Soundcard. Let's assume we are working with a S16 Stagebox or a X32 with X-ADAT expansion card. While having the possibility to use the 3D headphone mixes coming out of the KLANG:vier, we can also record the ADAT signals.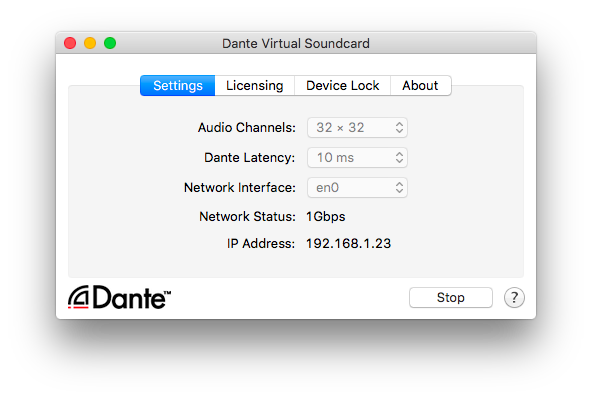 We start the Dante Virtual Soundcard with 32×32 (Input/Output) channels.
Because we want to record the incoming signals from the ADAT ports and not the 3D headphone mixes, we route KLANG:vier's channels 17-40 to our Macbook with the recording DAW.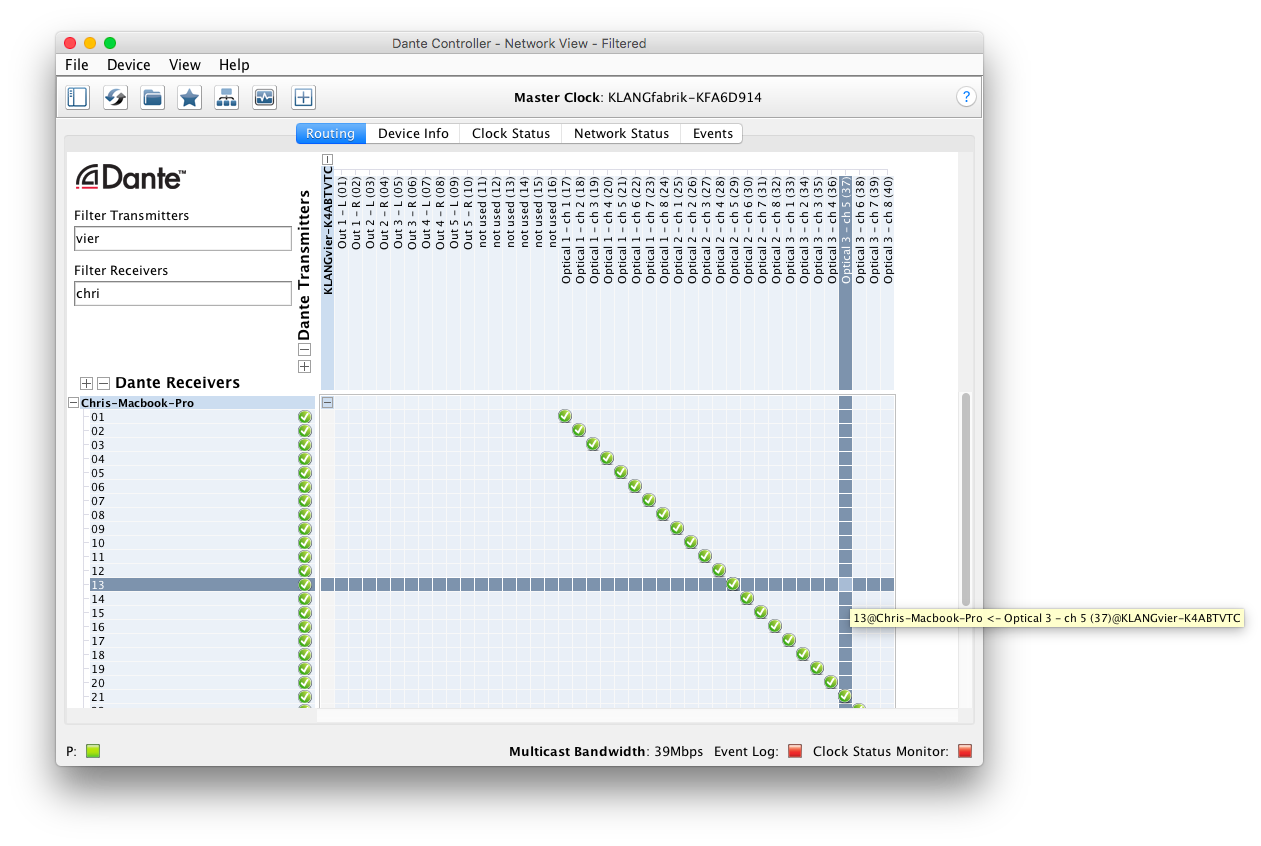 In the next step, you can use any DAW you feel comfortable with. We were using Logic Pro and set the inputs to Dante Virtual Soundcard.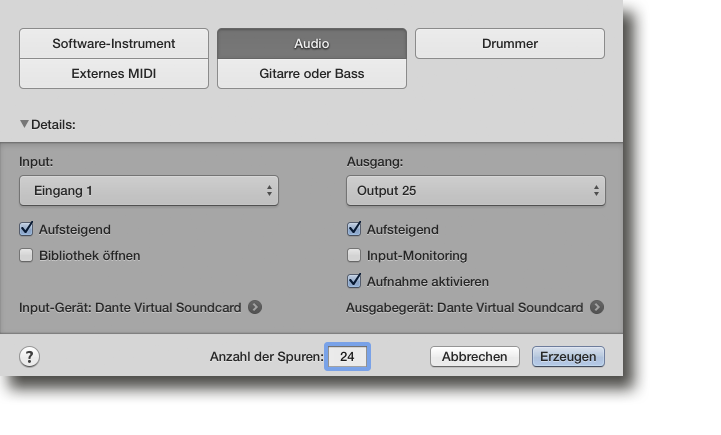 Last thing to do, is to name the audio tracks, so you can work with them later…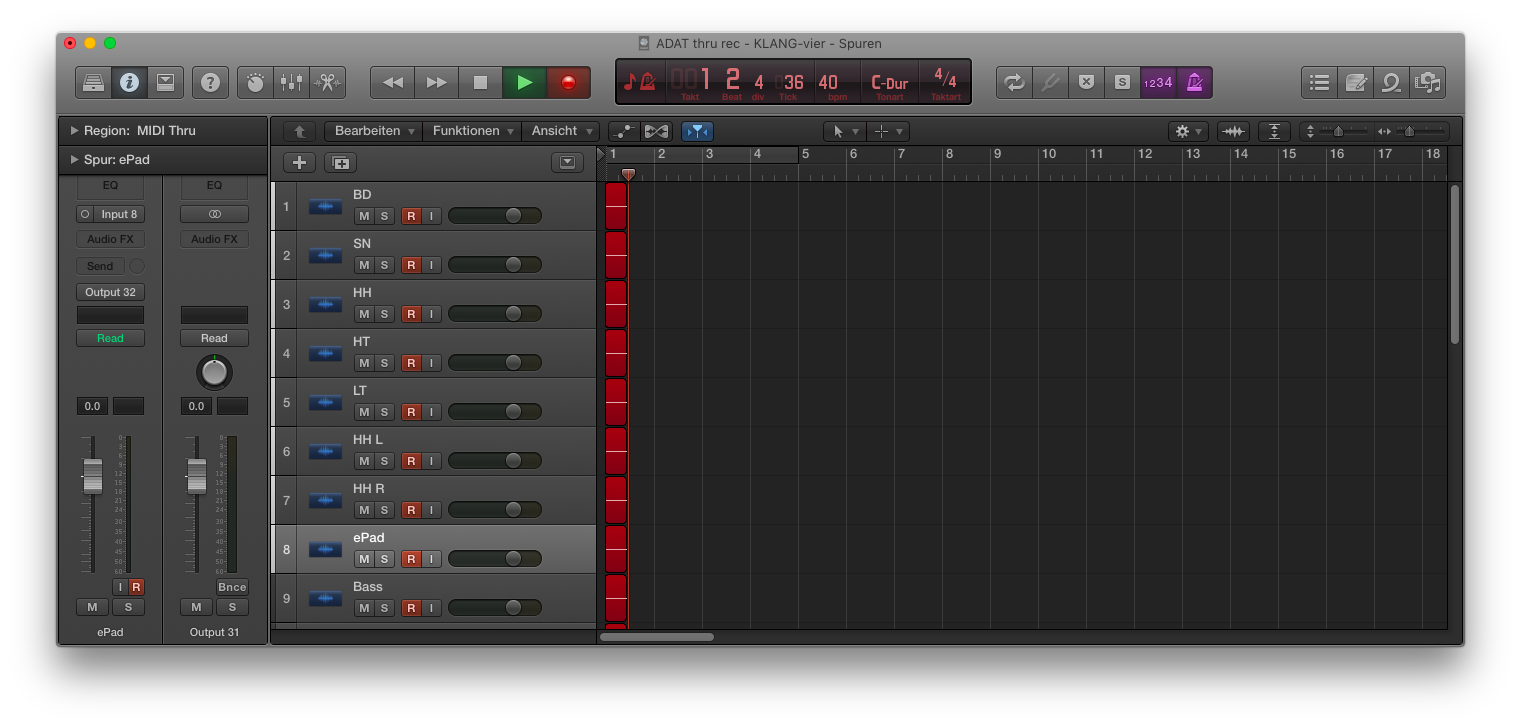 … and press the record button.
X-32 and S16 example setup:

With a setup of X32-core with X-ADAT card you can imagine the following setup:
The S16 is used as a normal stagebox with AES-50 connection to X32-core which and feeds the KLANG:vier with the optical (post equalized) signals. With a Dante Virtual Soundcard you can record the ADAT thrus without the need for an X-Dante card, while using 3D headphone mixes.

If you want to record pre equalized signals while using 3D mixes, the setup looks a little bit different:
Set X32 with X-Dante card as Clock Master (internal and Dante Controller). Send post-equalized signals via Dante (X-Dante card needed) into KLANG:vier and send them to the 3Diem sink.
The ADAT outputs of your stagebox (pre-qualized mode / Splitter Mode) can also be recorded via Dante Virtual Soundcard. Therefore, go into KLANG:vier's optical inputs. Select Dante as clock source for KLANG:vier as well. The S16 needs to be CLK slave (AES50).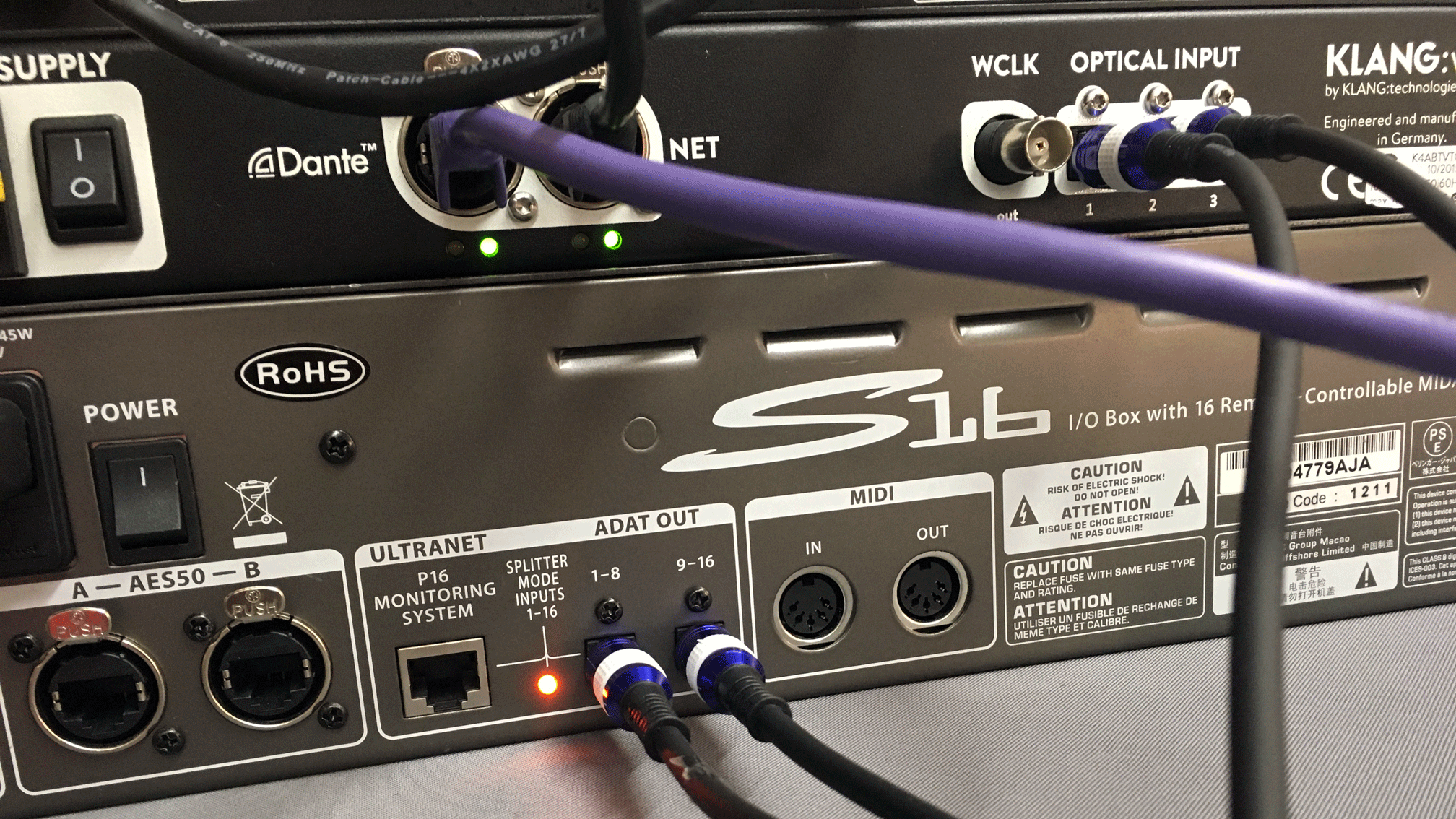 Daisy Chain KLANG:vier via ADAT