Manuals
Dante Firmware Update
Dante Updater
Dante Controller has a built-in firmware update tool
The latest software versions of Dante Controller come with a built-in firmware update tool, called Dante Updater. Once you are running the latest version, Dante Controller connects to its own server and checks for firmware updates. This has become the easiest and hence preferred way to update the Dante firmware. Please check this link below for a step-by-step guide provided by Audinate:
What you need
PC or Mac with Dante Controller
KLANG:quelle, :fabrik, :vier, :vokal, :kontroller
Network cable
Dante Firmware Update Manager
The legacy tool to update Dante firmware.
What you need
PC or Mac with Dante Controller
KLANG:quelle, :fabrik, :vier, :vokal, :kontroller
Network cable
Step 1: Download & Install the Software
All KLANG products with built-in Dante interface can be updated over network from a computer running Audinate's Dante Firmware Update Manager (Windows and Mac OS X). Audinate offers a detailed description on the update tool. But we have summarized the basic procedure in the following.
Please download and install the latest Dante Firmware Update Manager for Windows or Mac.
Step 2: Download Dante Firmware Files
Download the Dante Firmware File for your product here.
---
Step 3: Choose Network Interface
Open the Dante Firmware Update Manager.
Enter your adminstator password if required, and choose your network interface.
Click on Next.
---
Step 4: Choose Update Firmware Mode
Click on Update Dante Firmware.
---
Step 5: Select Dante Firmware File
Click on Browse…
Select the Dante Firmware file for your KLANG product.
Option Override Device Matching.

Normally you do NOT have to override Device Matchings.
In case you can not find any KLANG devices in the following steps, please go back and set the checkbox for Override Device Matching once. (This has to be done once if you are updating from an older version where Klang was not written in capital letters. Updating to 1.1.x.x from 1.0.x.x requires to check this option once.)

Click on Next. (If you had to choose Override device matching click also on 'Yes')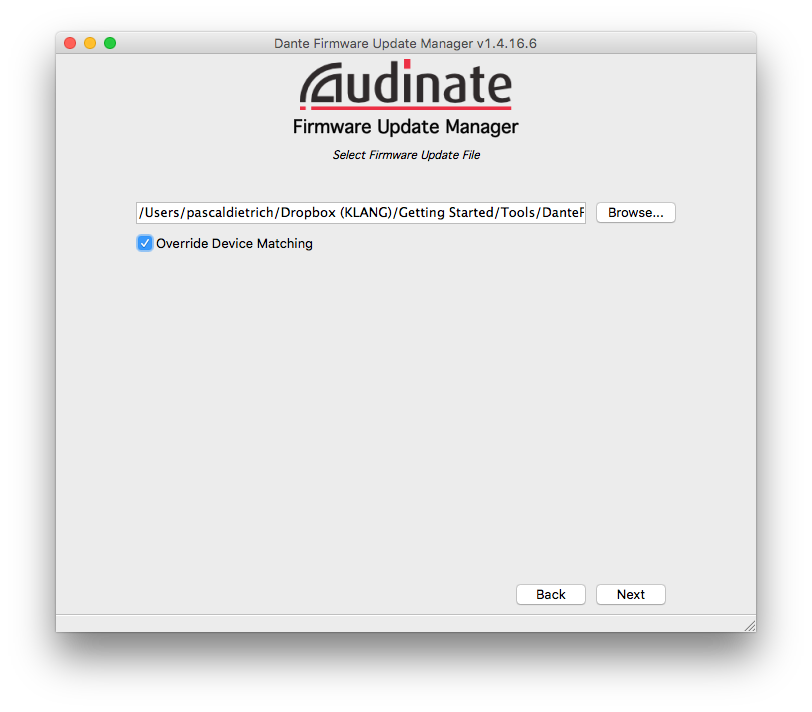 ---
Step 6: Choose Dante Device for Update
Check the box to select your KLANG product's Dante module to be updated.
Click on Start.
The KLANG specific firmware on the Dante module is usually uploaded in a few seconds. If the Dante software on the module is going to be updated, e.g. to support AES67 functionality, this may require a few minutes.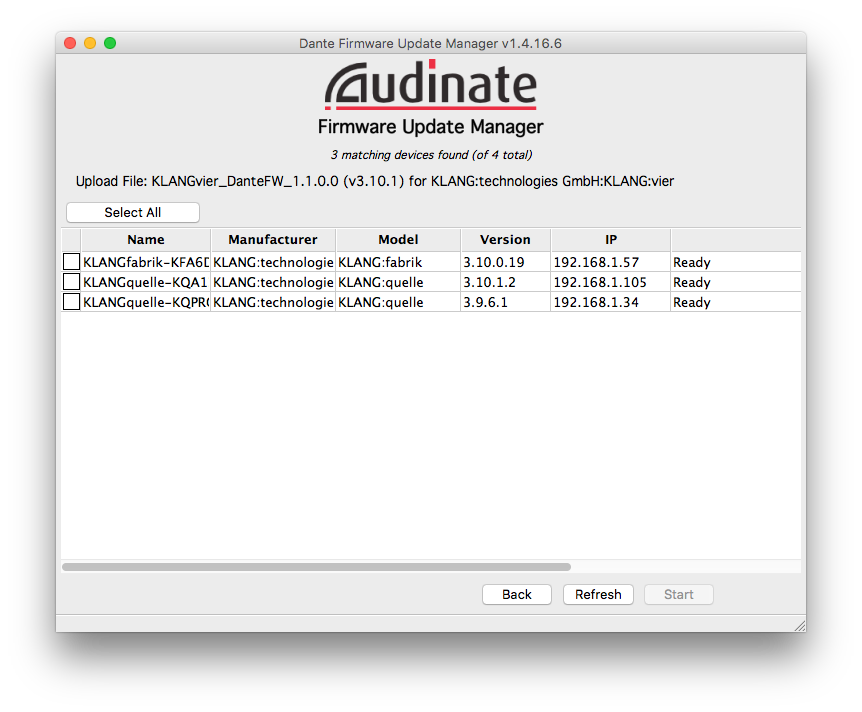 ---
Step 7: Reboot Device
After the Firmware Update Manager is finished with the update it shows a dialog. Please power off your KLANG device and turn it on again to ensure the latest/current firmware is loaded correctly. You can monitor the Firmware version in the Dante Controller. Please check the information carefully. It might also be good practice to save screenshots for future references.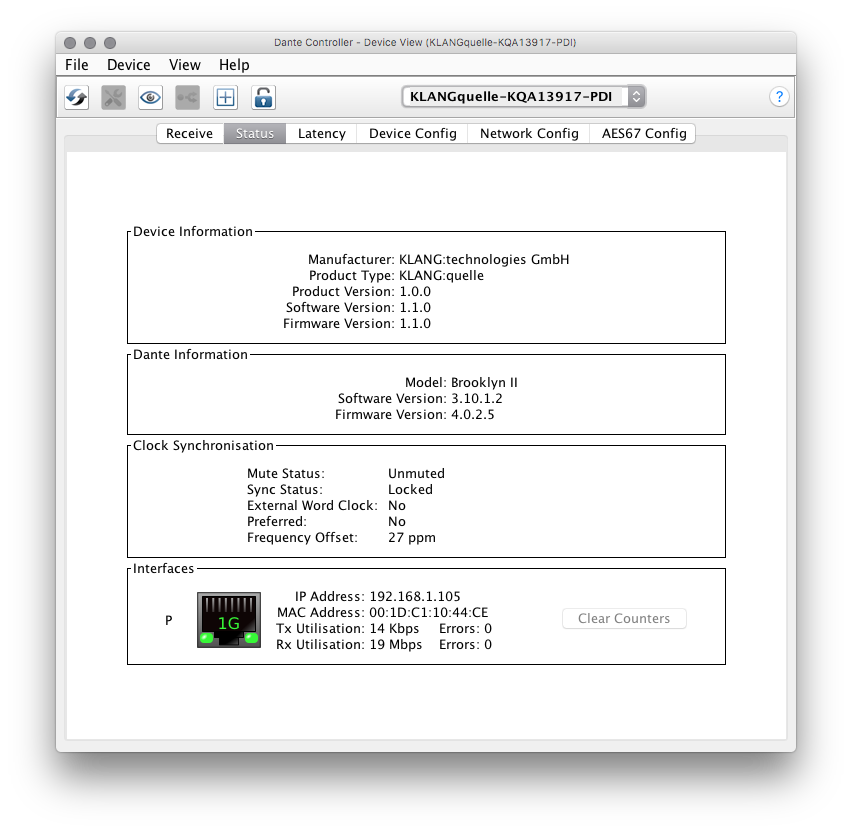 Your update is now finished.
KLANTE Module
Check if you are using KLANG's Dante module
If your Dante module is shown in Dante controller but not shown in the list of devices for Dante Firmware updates, follow the link below to check if you have a KLANTE module that uses a different Dante Firmware Update process.