Manuals
Dante | Quick Start Guide
In this article we will guide you through the first steps in Dante routing. As an example, we use Dante Virtual Soundcard (or a mixing board) and route to :vokal, :vier, :fabrik, :kontroller and the 3D in-ear mixes to :quelle or :kontroller headphone amp.
What you need
PC/Mac with Dante Controller (DC)
Either Dante-enabled mixing board or PC/Mac with Dante Virtual Soundcard (DVS)
KLANG processor – :konductor with DMI-Dante, :fabrik, :vier, :vokal
[optional] :kontroller or :quelle
Please make sure that your network switches are suitable for Dante.
Step 1 | Connect Devices to Network
If you connect a Dante-enabled mixing board, make sure to also connect your PC/Mac running the Dante Controller to the network. If you don't have a mixing console at your fingertips, you can also use and configure KLANG equipment with the Dante Virtual Soundcard (DVS). The DVS allows you to send and receive audio with your computer. With DVS, your computer can be routed with the Dante Controller just like any other Dante equipment.
Step 2 | Open Dante Controller
Open the Dante Controller on your PC/MAC and navigate to the Routing tab. Before starting to route audio streams let's make sure that all devices are configured correctly.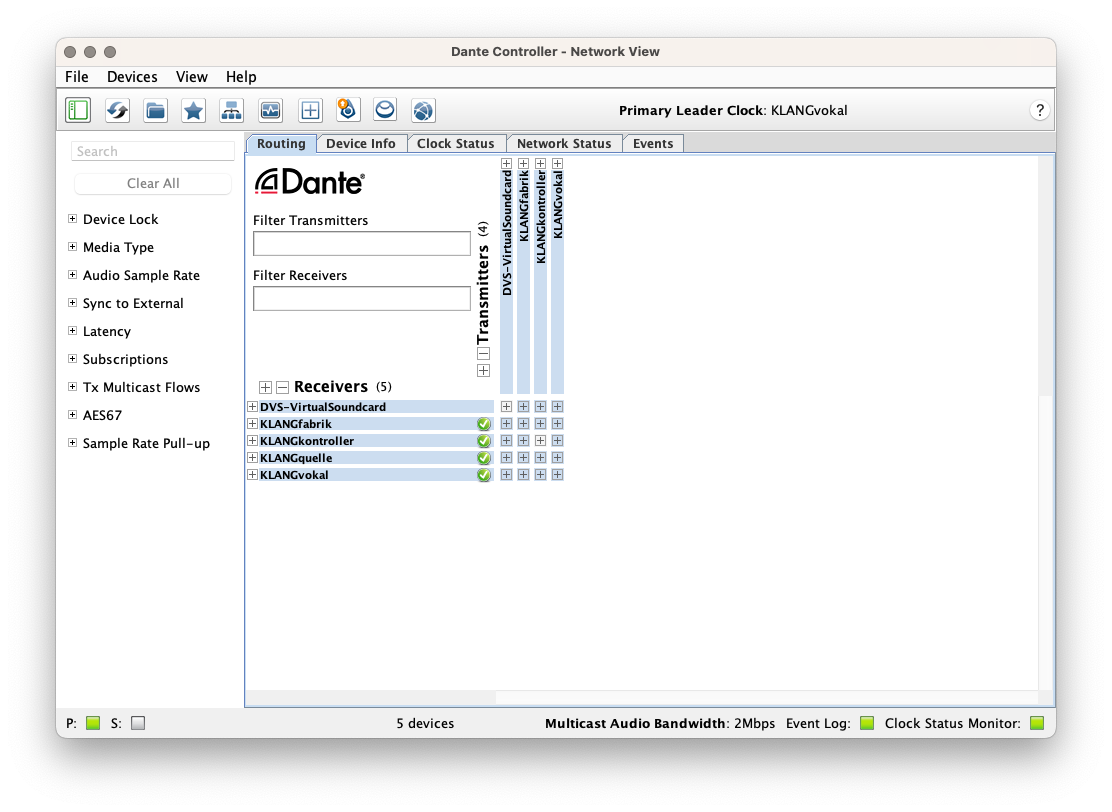 Step 3 | Set Sampling Rate and Latency
Use the same sampling rate for all Dante devices that you want to connect with Dante audio streams. Choose the lowest latency available if you have a good Gigabit network connection. Choose higher latency if you feel your network cannot handle the traffic. It is highly recommended to optimize the network and choose the lowest latency possible.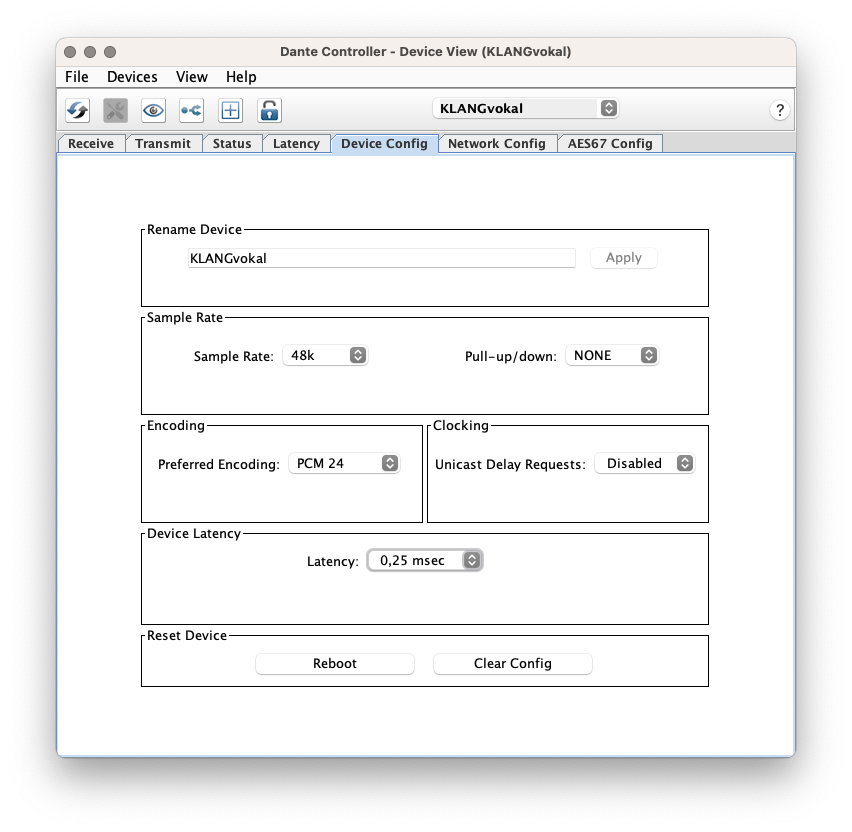 Step 4 | Route Audio to KLANG Processor
To route audio, click on the square at the crossing. In the screenshot this is the position of the green check mark icon. You will notice that a blank square will turn to yellow first and then quickly to green if routing was successful. A red icon signals a problem. Hover your mouse over the icon to get more information on the problem.
If your routing is 'diagonal' (Ch. 1 to 1, 2 to 2 etc.) you can also press the ctrl key and click on the minus checkbox between transmitter and receiver.
Please note that the number in brackets is increasing and counting the physical channels, where as the label before the brackets uses a similar labeling than on the devices or in the KLANG:app. L stands for left, and R stands for right channel, respectively.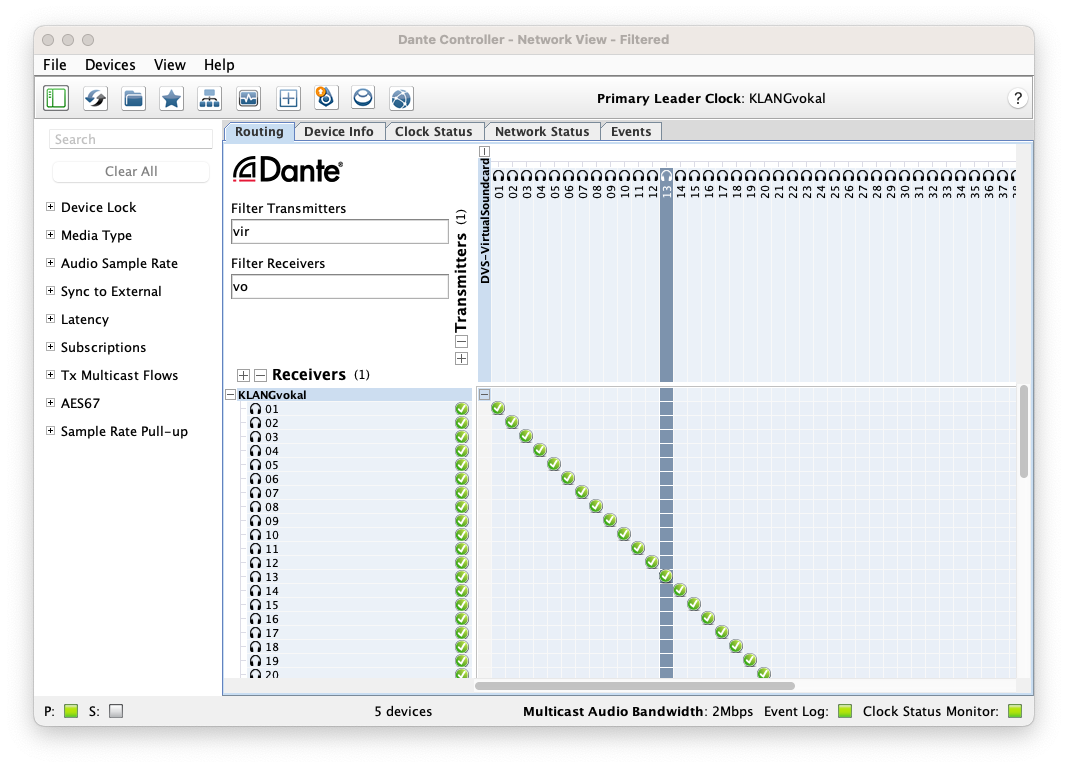 Step 5 | Route Mixes to a Headphone Amp
In Dante Controller navigate to the Routing screen. In the first example we route the first 3D in-ear mix of KLANG:vokal to all four outputs of KLANG:quelle. Expand the KLANG:fabrik channels in the top view (Dante Transmitters, click on the + sign). Expand the channels of KLANG:quelle on the right view (Dante Receivers). KLANG:quelle's output 1 left: Out 1 – L (1) will receive KLANG:fabrik's Out 1 – L (1) and KLANG:quelle's right: Out 1 – R (2) will receive KLANG:fabrik's Out 1 – R (2).
Step 6 | Check Meters
It is always good to quickly check for the status of the devices and the routing at this point, before proceeding to configuring mix settings in KLANG:fabrik. Click on the Clock Status Monitor indicator (green square in the lower right corner in the screen shot). A history of the last messages and warnings is shown. Click on clear.
This indicator should now stay green.
If it turns to red, there is most likely a problem and which should be investigated first.
Furthermore, by double-clicking on the Dante devices, the Receive and Transmit tab indicate whether audio is send or received on a particular channel. We recommend to check (in this example) if the Dante Virtual Soundcard is transmitting and the KLANG:fabrik is receiving audio. In some cases it is indicated that audio is transmitted, the clock status indicator is green but there is no indication that audio is received although the routing is correct. If this is the case, we recommend that you check your network switch and check if a device is set on mute.
Step 7 | Routing in KLANG Processor
Signals can be routed inside KLANG processors in a similar manner FROM:source TO:receiver.
Please note the signal flow direction is as follows:
KLANG:app – from left to the top (as in many mixing consoles)
Dante Controller – from top to left
3Diem: input of the 3D in-ear mixing engine
3D Mix: output of the 3D in-ear mixing engine. These are the mixes in stereo pairs. Mix 1: ch 1 / ch 2, Mix 2: ch 3/ 4 etc.
Make sure to be in KLANG:app Admin mode and go to CONFIG > ROUTING: route the incoming signals, in our case the Dante channels 1-64 to the 3Diem (3D IEM Mixing Engine inside the KLANG Processor). Afterwards you can choose where the 3D mixes can be used. Make sure that the clock source is set to Dante and LOCKED.
Go to METERS and easily check that signals are flowing into the 3D mixing engine.
Video Series
Getting Started with Dante – Audio Networking Training