Manuals
How to recover and reset your Dante module's fixed IP settings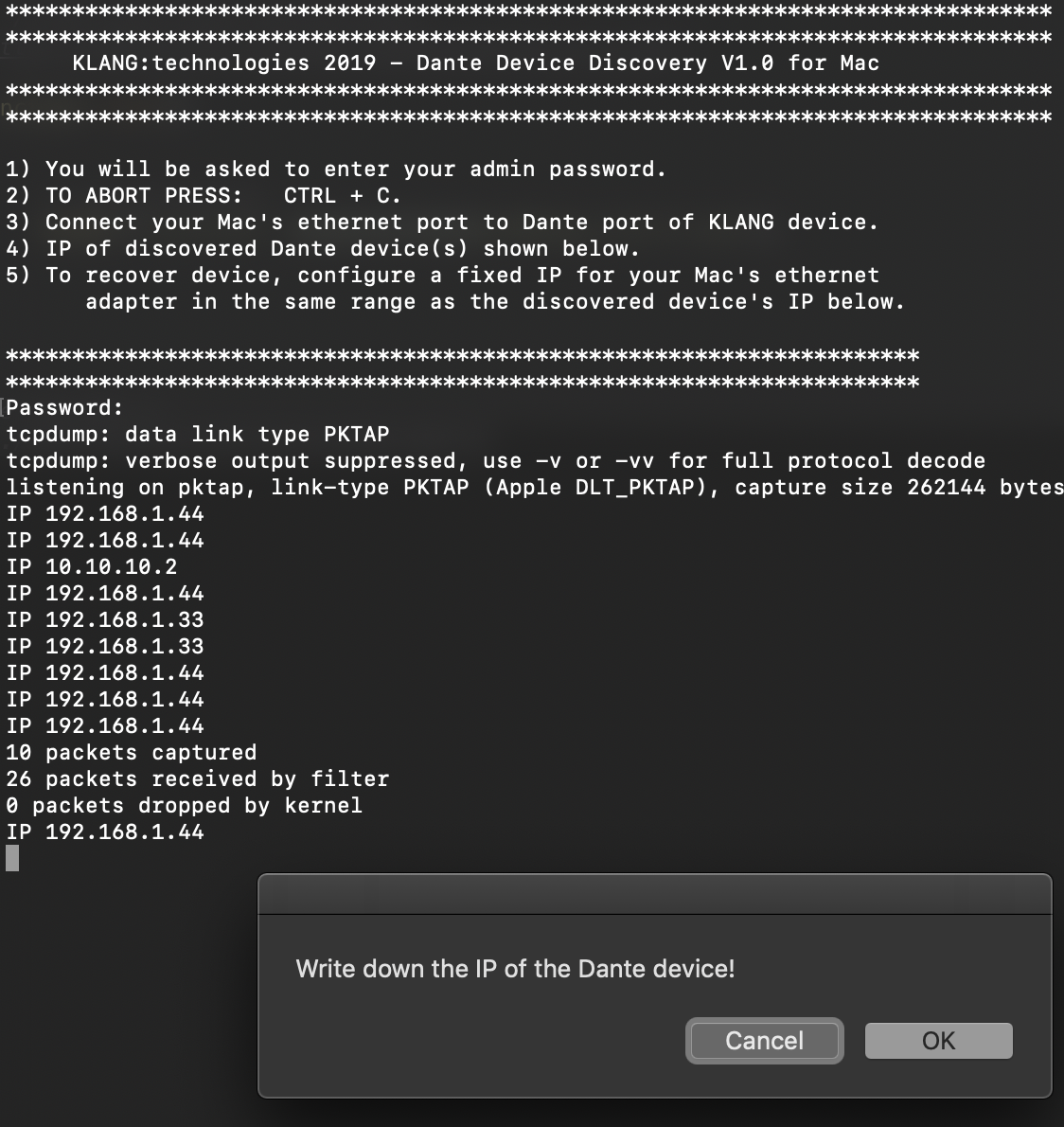 Instructional Video – Fastest Recovery
Step by Step Guide – Reset your KLANG's Dante Module
You have accidentally misconfigured your Dante settings, IP addreses or got a unit that has probably been configured not for your network? Don't be afraid, this can be fixed in all cases.
If you just want to quickly find out a forgotten fixed IP of the Dante Device, JUMP TO STEP 5!
The problem is either the Dante switch configuration mode (only available for KLANG:fabrik and KLANG:vier) or a fixed IP address of the Dante module (all KLANG Dante enabled products) has been set to a totally different subnet than your computer running Dante controller.
Audinate has released a step by step guide to "recover" devices that seem to hide from Dante controller. But before you start with this procedure, we highly recommend to check these things first.
1 Disable WiFi on your computer
Check again in Dante controller if the device appears now.
2 Update to latest Dante Controller
Make sure to run the latest version of Dante Controller 4.1.x. If your version is older, immediately install a new version and try again.
3 Use Stand-alone Network
If not configured otherwise your computer and your dante module should get a self-assigned IP address and not one from a DHCP server. This self assigned IP is in the range 169.x.x.x.
Unplug ALL network cables from the KLANG product and make sure the unit is switched off!
Close Dante controller if opened on your computer.
Plug an Ethernet cable to your computer (Wifi must be disabled)
Plug this cable – without any additional router or switch in between – to the Dante port of the KLANG device.
KLANG:fabrik: Dante 1 – NOT Dante 2 or Control
KLANG:vier: Dante – NOT Control
KLANG:quelle: Connect to the only Network/Dante port
Power up KLANG device with Dante.
Check if network LED on KLANG device shows activity. If not, the network connection between your KLANG product and your computer does not work. Check network cable first!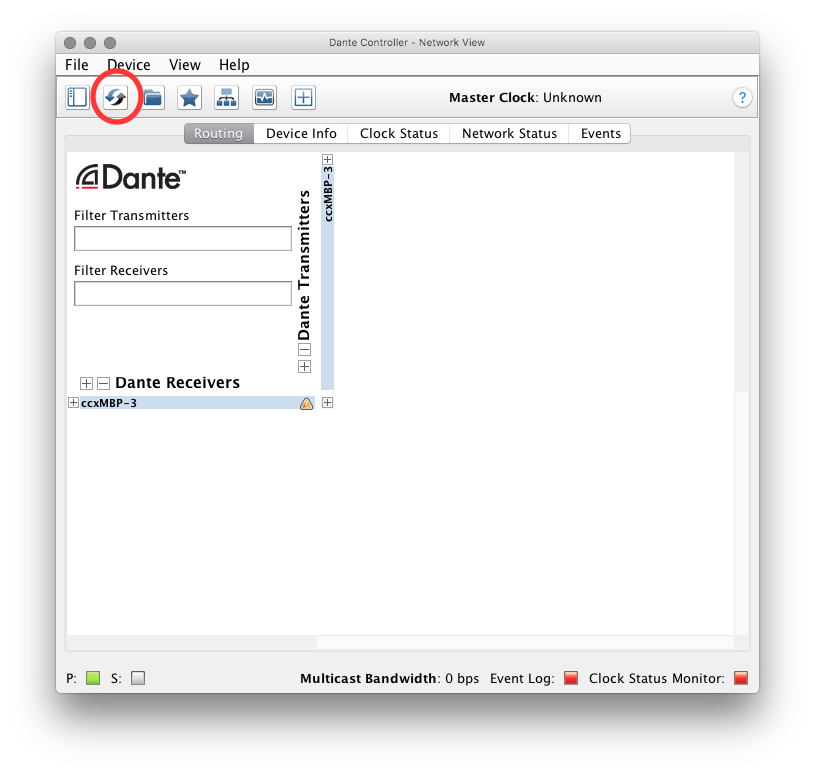 Restart Dante controller and wait for 60 seconds. Hit refresh icon!
Still no unit found? Please proceed…
4 Check Network Adaptor Settings
Check if Dante Controller uses the correct network port of your computer.
E.g. an Apple iPhone connected via USB to your MAC can automatically set the primary network to this USB iPhone connection instead of the default Ethernet port.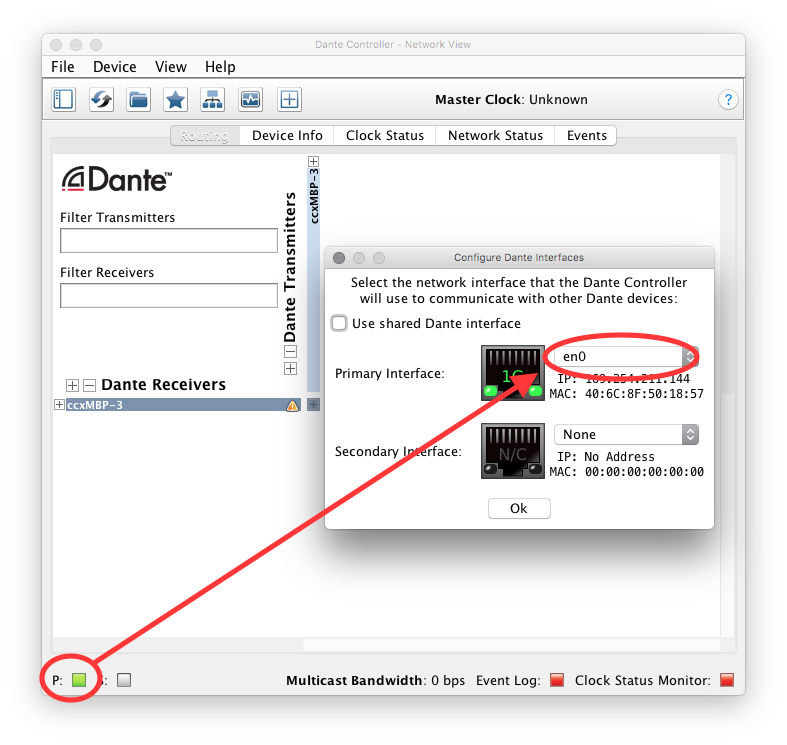 5 Check in Device Info
In Dante Controller we usually search for devices in the Routing view.
Go to Device Info. If e.g. your KLANG:fabrik's Dante module was configured for Dante Redundancy this might cause the device to not show up.

6 Discover the Dante Module's IP Address
Download our little automatic KLANG Dante Discovery tool to find out the fixed IP used. DOWNLOAD
Unzip and Go to either Windows or Mac folder depending on the operating system used.
For Windows: Run KLANGDanteDiscoveryWIN.bat
For MacOS: Run KLANGDanteDiscoveryMAC.command
You will be asked for your administrator or computer user password.
All IP addresses of Dante Devices will be shown.
Screenshot for MacOS:

Screenshot for Windows:
Please note, the Windows tool will show the actual IP address (4 numbers, e.g. 192.168.1.44) followed by the port (.1034). Hence, you need to only take the first 4 numbers:
192.168.1.44.1034
7 Use a fixed IP Address for your Computer
Go to your network settings. In the following we use screenshots for Mac OS X.

In Network Preferences go to Ethernet. Your screen should look like this.

You need to unlock your settings and hence you need administrator password.
Self-Assigned IP.
Status: Connected
IP Address: 169.x.x.x
If not please configure it to Configure IPv4: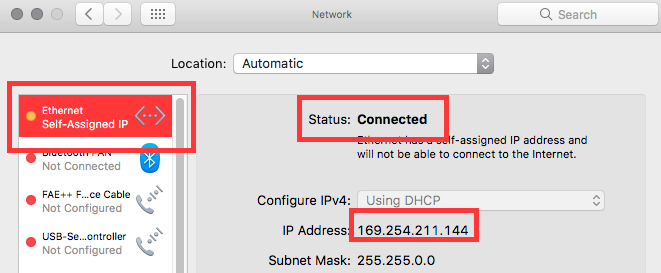 Now, Set Configure IPv4 to "Using DHCP with manual address" and set address to 192.168.1.2

Check again in Dante controller and hit refresh and wait at least 60 seconds.
If the unit does not appear in the routing tab check in the device list as well:

Once you see the device…
Double click on the device and set its IP address like in this screenshot.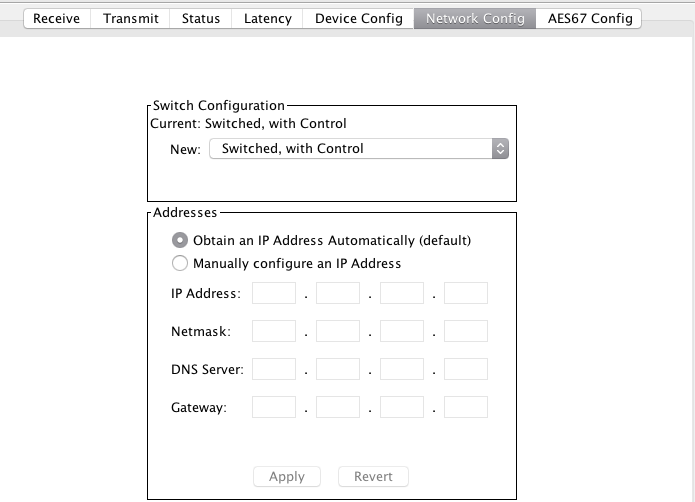 We highly recommend to use "Obtain an IP Address Automatically" if you are not an IT expert!
Still no luck?
Please procede with the step by step guide from Audinate. https://www.audinate.com/faq/how-can-i-locate-dante-device-static-ip-address-unknown-subnet
Please get in touch with our support team support at klang dot com.