Manuals
Connecting Presonus StudioLive Rack Mixer RM16/RM32AI
Silent Stage Setup – KLANG Processor & Presonus RM16
We are constantly looking at perfect companions for KLANG:fabrik / KLANG:vier to obtain the best silent stage in-ear monitoring setup for your needs. Read about how to connect KLANG:vier and Presonus RM16 (SLRM16AI). Find out how simple mixing your own monitor sound during rehearsals and even live on stage can become.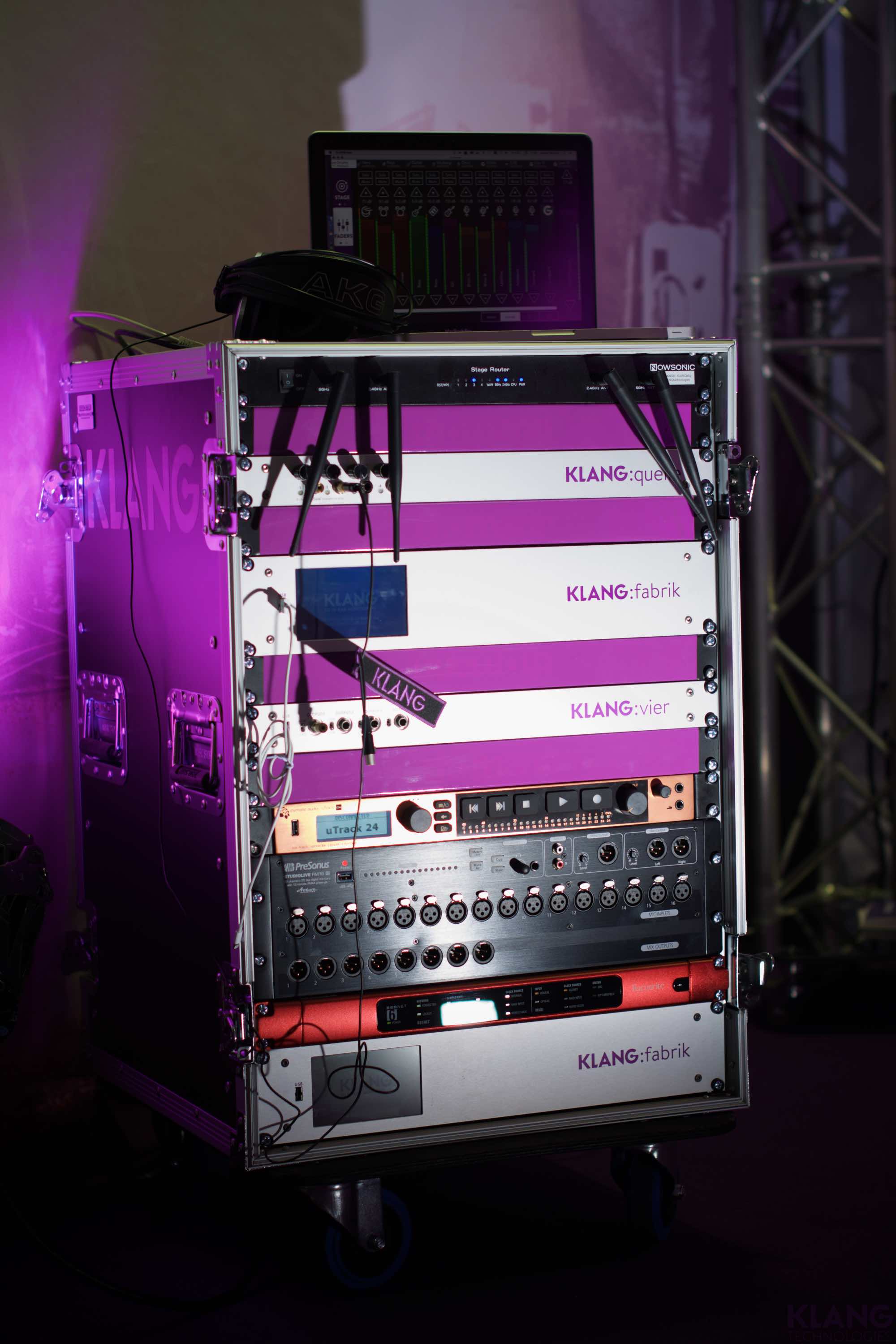 What you need:
KLANG Processor with Dante IO
Presonus SLRM16AI (or SLRM32AI)
SL-Dante-Mix expansion card for Presonus SLRM
About the Presonus StudioLive Rack Mixers
The Presonus SL RM series products are rack mixing units with network connectivity. Remote control apps for iOS, Windows and Mac are available as well.
The RM16 offers 16 input channels and 8 analog outputs on 3 RUs, whereas the RM32 has 32 XLR inputs and 16 analog outs on 4RUs. The unit's firmware can be updated via USB. The basic product contains a network expansion card only. For Dante support the SL-Dante-Mix expansion card is required – it is plug'n'play.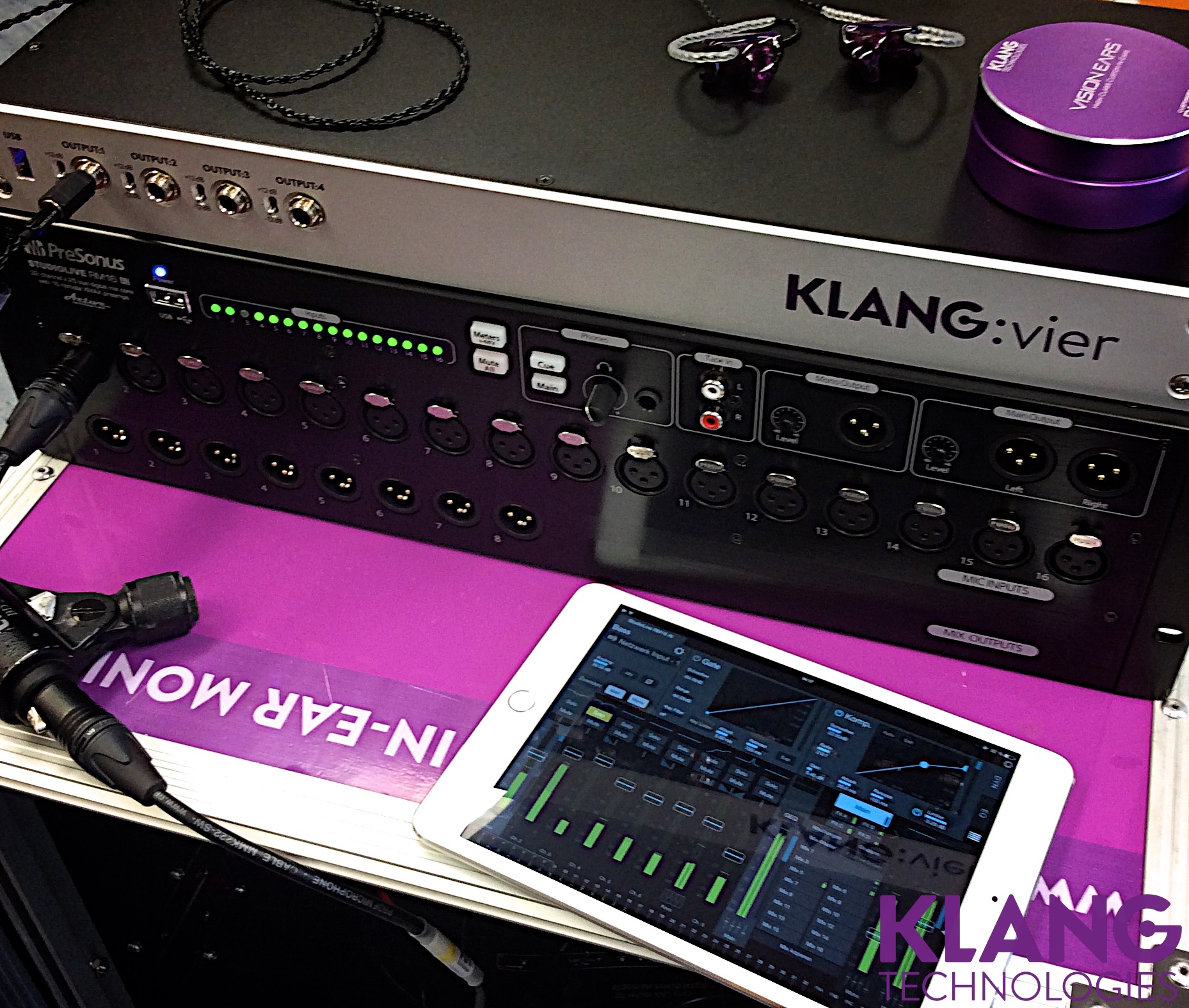 The Presonus SLRM16AI features 16 nice sounding preamps with perfect sonic quality. 16 XLR inputs are connected at the front of the unit.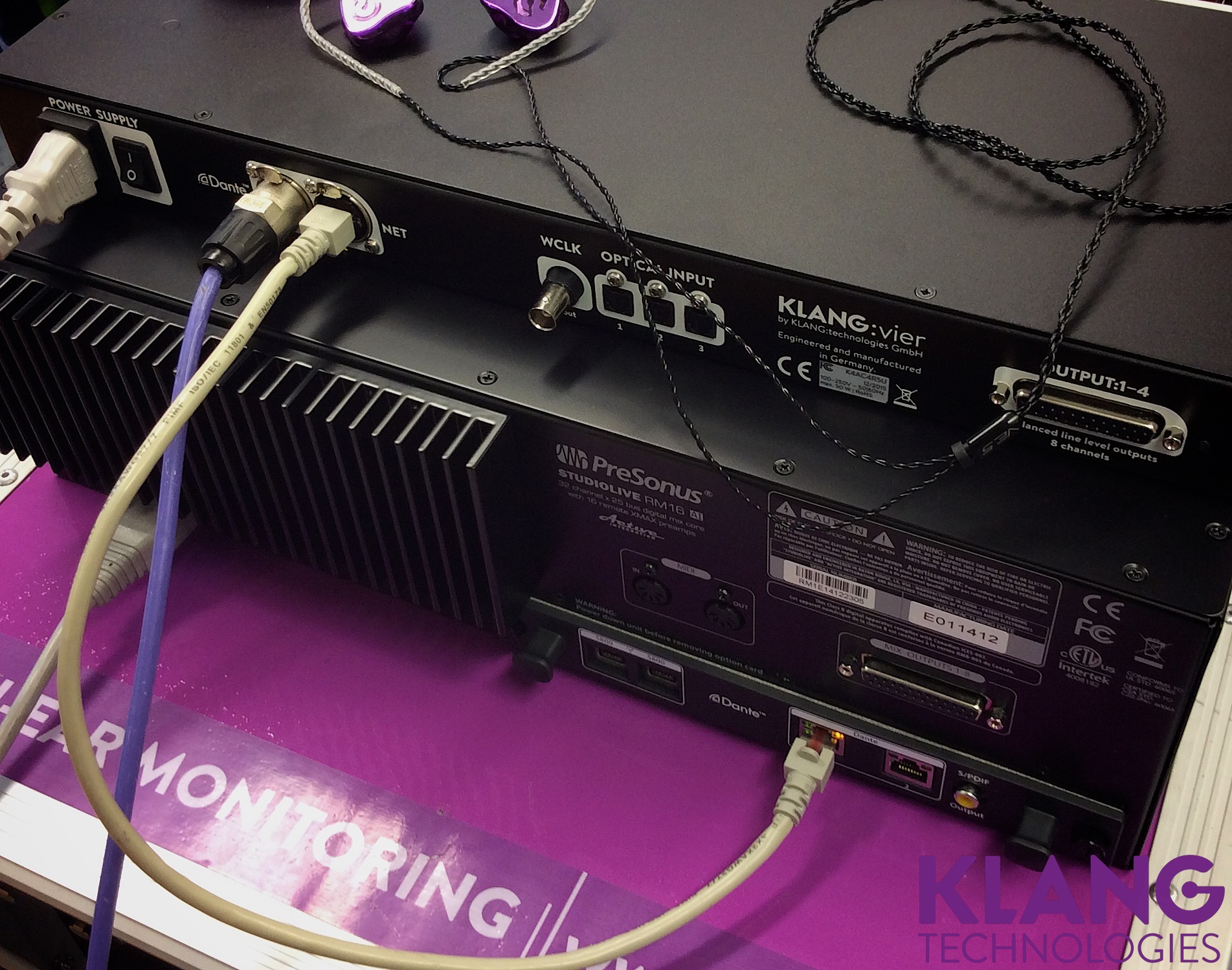 The graphical interface of the remote control app is clean and simple. Software versions used in this example are shown in the screenshot below.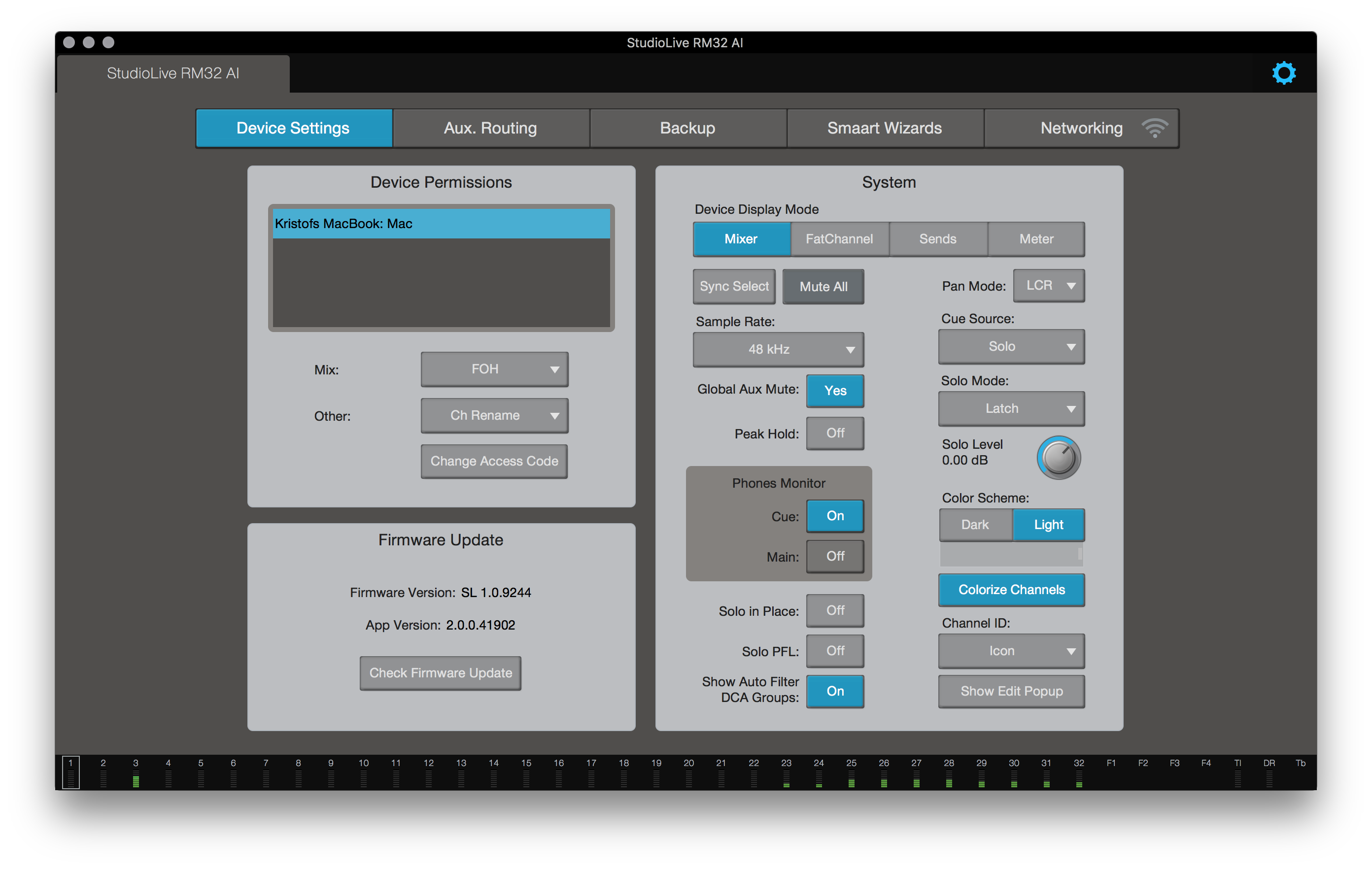 Step 1: Routing in the RM16/RM32
The routing scheme is simple and straight forward. For each of the input channels one can choose if the source should be the analog mic or line inputs at the rack mixer, or from a network protocol offered by the expansion card—Firewire IEEE1394 or Audinate's Dante AoIP network.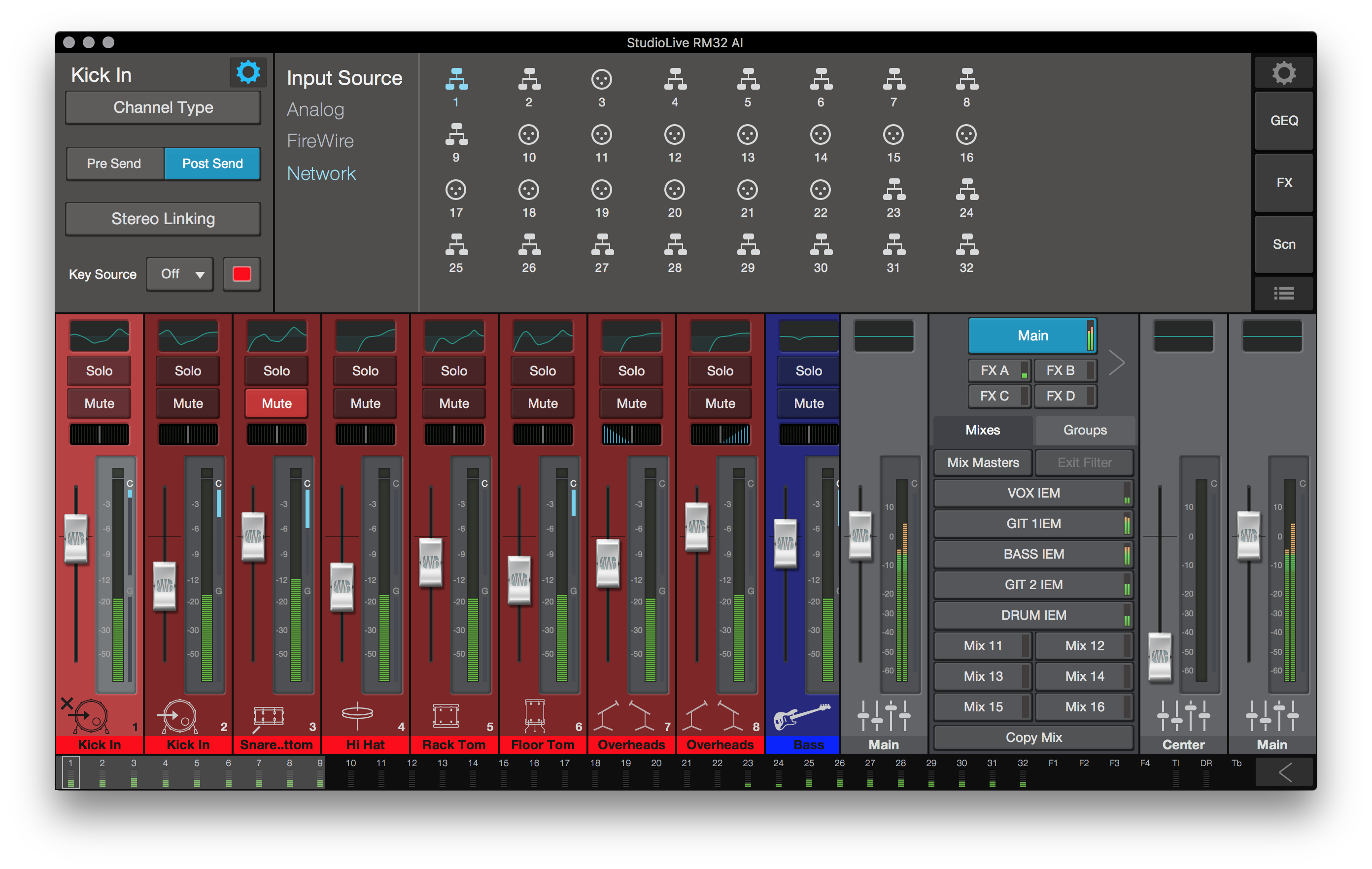 When you now start to search for the routing matrix and how to route every single channel to the Dante output, you will be surprised as we were – There is no such matrix. Actually there is a similar matrix but that is not routing channels to the Dante card but only the Firewire interface.
Each channel that acts as an input for the mixer (regardless if analog or from the network ports) is automatically routed to the Dante outputs. The only thing that needs to be adjusted is if the signal should be send Pre (EQ + dynamics) or Post.
For KLANG:fabrik and KLANG:vier you will have particular interest in getting the signals Post EQ i.e. pre-fader. In this way the levels for the Front of House mix do not interfere with your monitor level.
Step2: Dante Routing & Channel List
The channels 1–32 of the Dante outputs can then be connected via Dante Controller to the inputs of KLANG:fabrik or KLANG:vier. Read more how to route with Dante Controller here.
Furthermore, the RM16 and RM32 offer 4 effect engines. E.g. route snare signals to one effect engine and vocals to a different reverb program and so on. The outputs of these effect engines are not directly accesssible via Dante. But the RM offer mixes that could be used for mono or stereo wedge or IEM monitor as well. The solution is to simply route the output of the effects to one particular mix, which is available on the SL-Dante-Mix card.
The full disclosure on the available Dante output channels of the RM16 / RM32 are as follows:
Ch 1-32 – Input channels 1-32 (pre/post as configured)
Ch 33–35 – Main Left / Center / Main Right
Ch 36–51 – Mix 1 – Mix 16 outputs (e.g. used to access the FX outputs)
Ch 52–55 – Send to FX A, B, C, D (dry, pre-FX signals
Ch 56–57 – Solo Left & Right
Ch 58 – Talkback (in our example set to channel 32)
For KLANG:fabrik you can route in the same way but up to 32 channels can be routed from the RM32 to KLANG:fabrik.
KLANG:Vier Routing Options via Dante:
If you are using the KLANG:Vier and need local xlr outputs or the fifth mix out of the Presonus local auxiliary outputs, you can easily do this by routing your fifth mix out of the KLANG:Vier via Dante to one of your 32 inputs into your Presonus console.
Now you can easily route that inputs to one of your 16 local auxiliary output, as seen in the pictures below.
you can even send all five mixes to your local auxiliary outputs, by sending your mixes from the KLANG:Vier to your input channels 23-32 and route them to the auxiliary outputs via mix buses.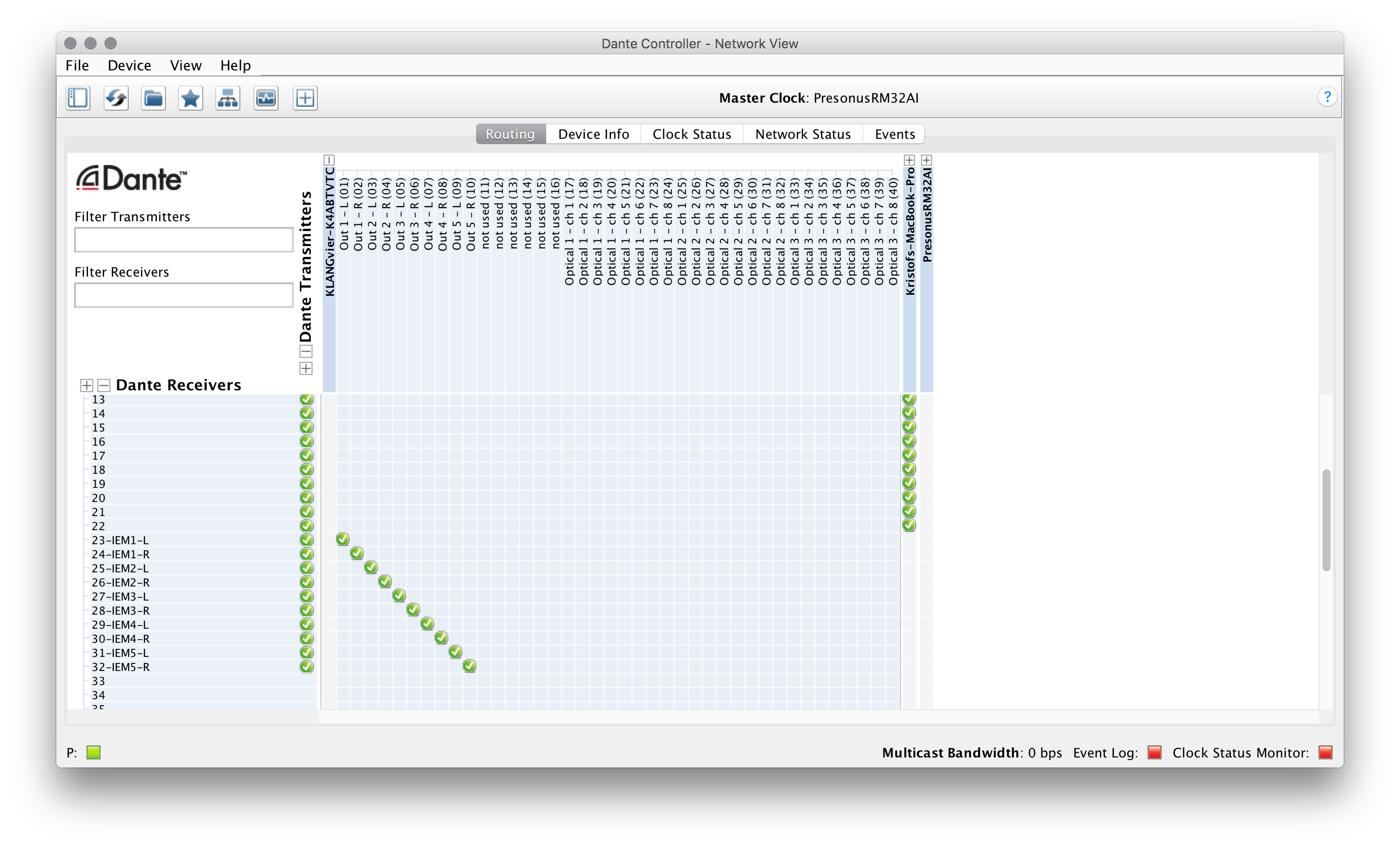 Now you can use the Presonus front panel for all of our patching and the KLANG:Vier is connected by one ethernet cable.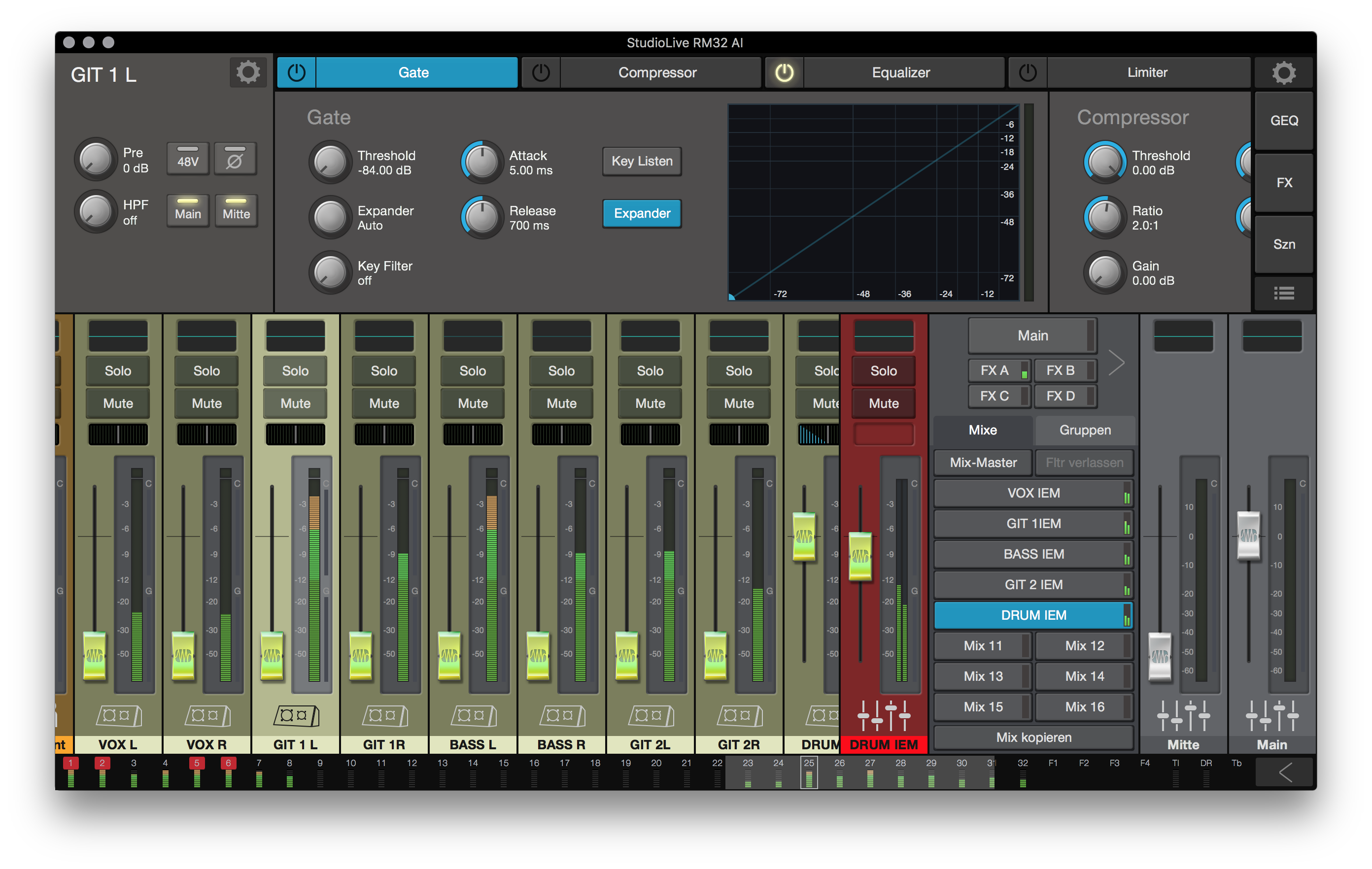 because of the missing possibility of routing Dante directly to your local auxiliary outputs of the Presonus, this is one way to provide you one or up to five 3D mixes on your KLANG:Vier to your auxiliary outputs on the front panel.
Now you are ready to proceed with the Dante Routing – Getting Started with DANTE Routing and you can edit the channel labels according to your Presonus RM setup – Change Channel Names and Create Subgroups.