Manuals
YAMAHA TF-Rack and KLANG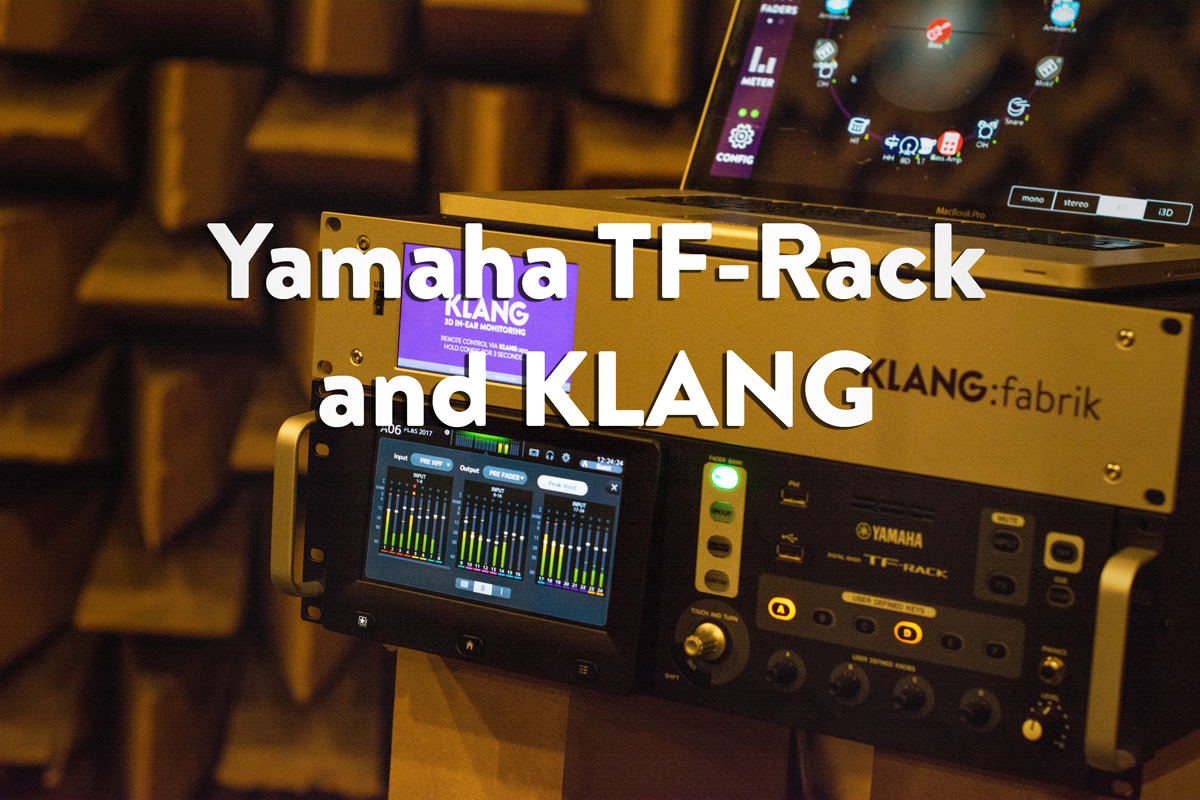 Setup with KLANG:fabrik for your production
What you need:
Yamaha TF Rack with Dante card
Yamaha Tio Stagebox for additional 16 inputs/8 outputs
KLANG:fabrik
WiFi Router, Cat5e network cabels (or higher)
Yamaha's new TF rack mixer is a really powerful 3U monitoring mixing console, very intuitive and amazing to work with. Combine it with your KLANG:fabrik and you will quickly create incredible headphone or in-ear mixes! You can even install a Dante Card and can easily mix you monitor sound even if you don't have an iPad at hand.
Setup for smaller productions / bands
-KLANG:vier
-Yamaha TF-Rack with Dante Card
-8 channel microphone preamp with ADAT outputs
-WiFi Router, Cat5e network cables (or higher), optical cable, BNC cable
It may seem a bit confusing to use an 8 channel microphone preamp with optical outputs while working in a Dante network, but actually KLANG:vier supports a nice and handy feature called ADAt thru that allows you to transmit all 24 incoming optical channels to the Dante network. If you can't add a Tio/Rio Stagebox to your setup increase inputs, but have an optical interface already existing in your equipment pool, you can also use this and send it to the Dante network. You can get 8 channel preamps like the Focusrite OctoPre at a reasonable price nowadays, too. You only have to keep in mind that the gains can not be changed via the TF mixer.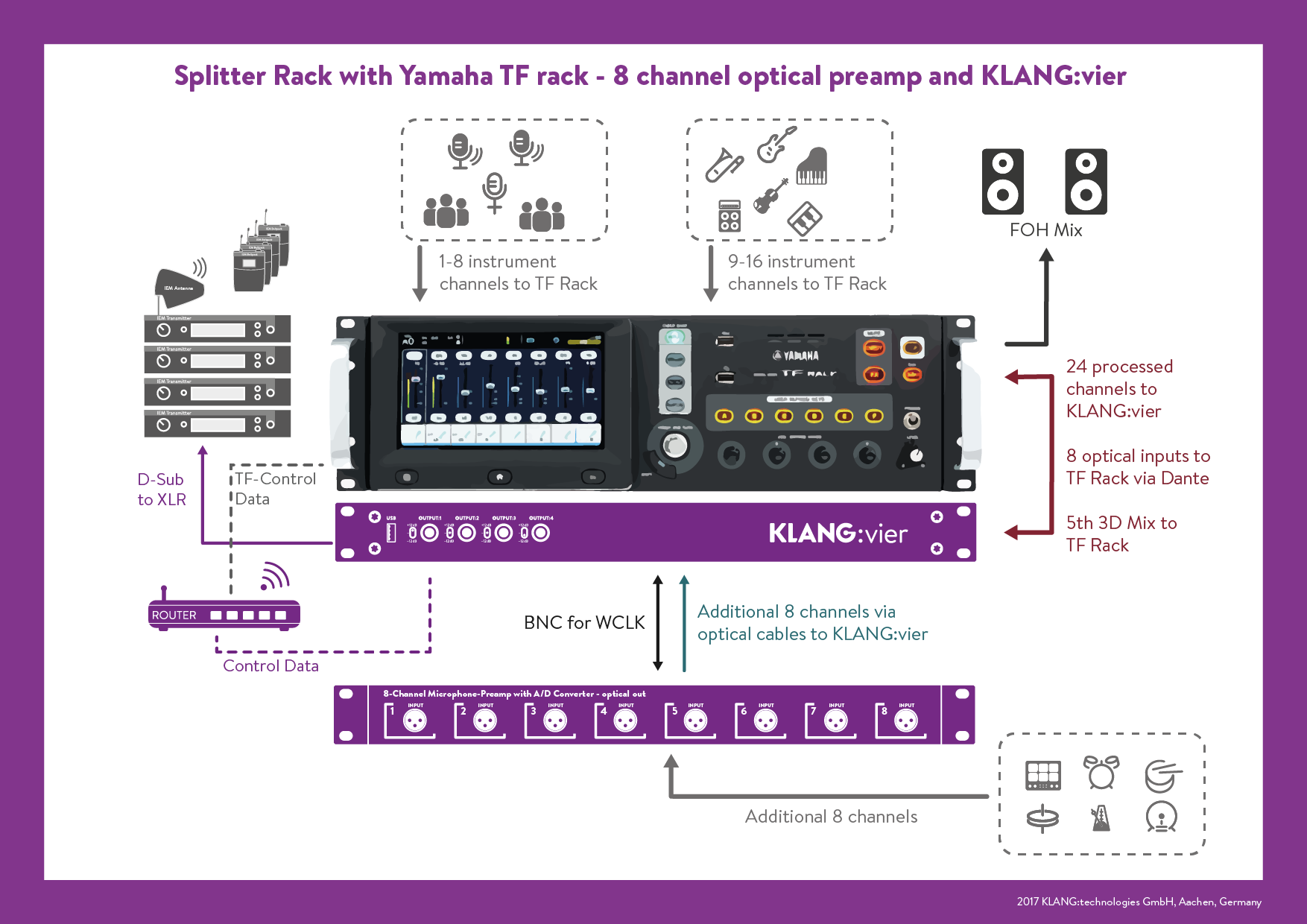 Working with the TF rack mixing console
Besides the multi touch display, it is also possible to control the TF via Yamaha's StageMix app over WiFi. Just start the console and you'll see pre-installed and very useful scene presets waiting to be adapted for to own production setup. The Fader Bank Buttons on the front side of the device give quick access to all inputs, groups, outputs and a custom view with selected channels. A click on the home button switches between the fader view and the second layer where information like gains, eqs, gates, dynamics, Dan Dugan's automixer and channel namings are visible.
Yamaha teamed up with other audio companies like Audio Technica, Sennheiser and Shure to create some QuickPro Presets™ optimized for different needs and microphones. In compination with Yamaha's 1-knob COMP™ & 1-knob EQ™ it is possible to mix really fast.
Setting inputs to Dante
All factory-provided inputs have set local INPUT as source for the channels.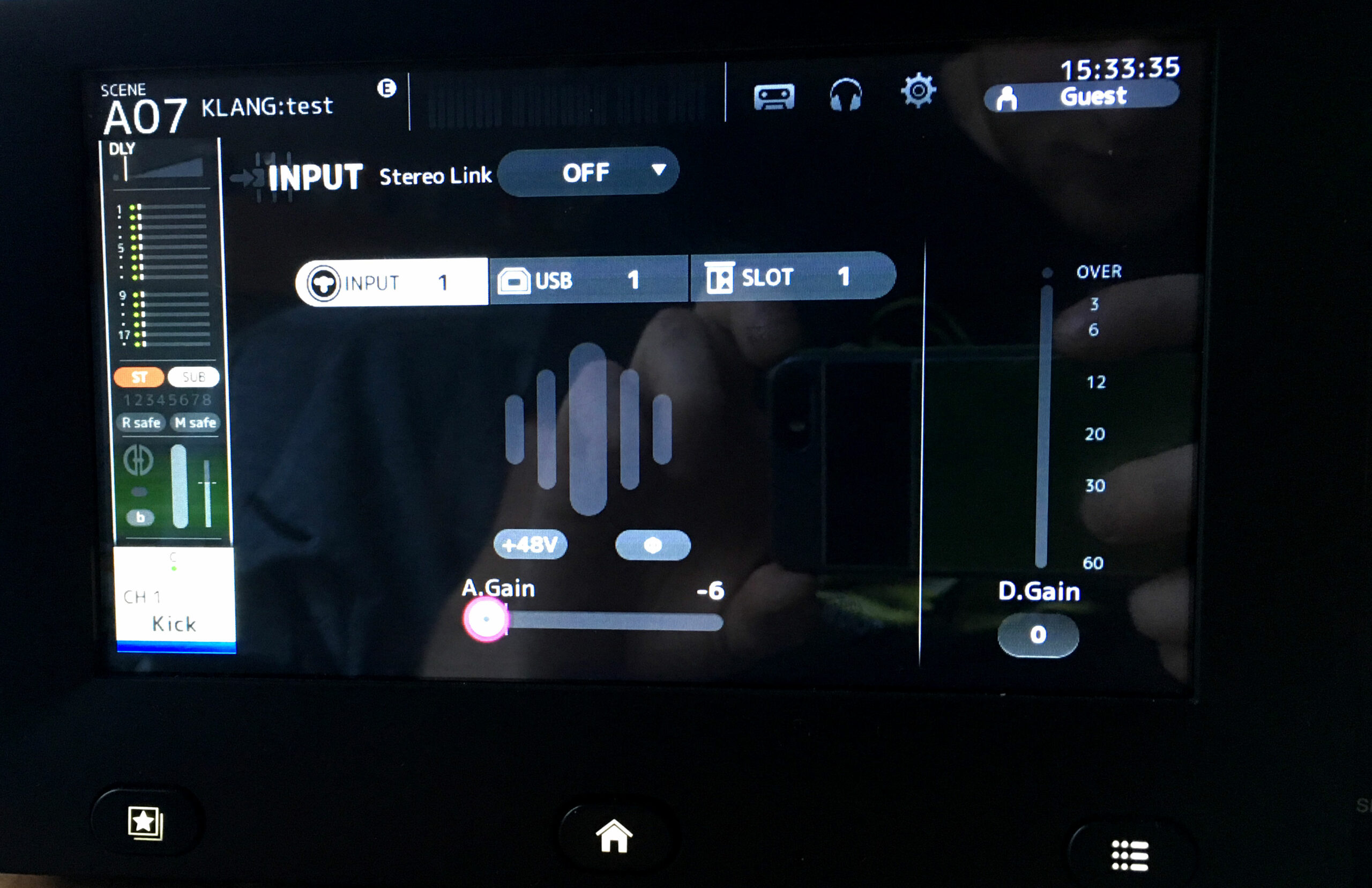 For Dante use you choose SLOT as input source. With the option button underneath the left display corner, it is possible to set local, USB or dante input for channels 1-16 with just one click, which is really useful for Virtual Soundcheck and 3D mixing workflow.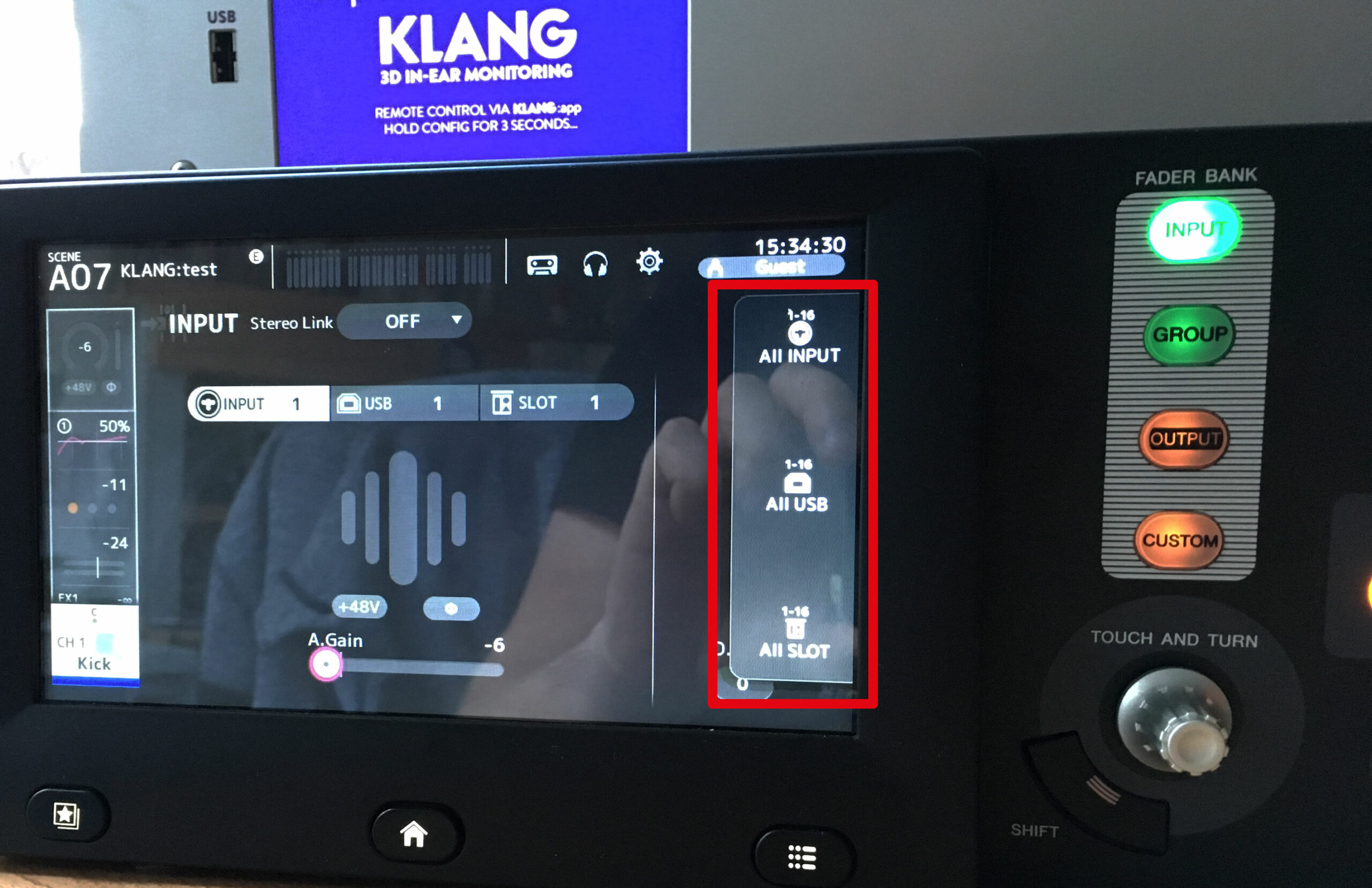 Using KLANG:vier as optical to Dante converter to create 8 additional inputs
As shown in the Dante Controller window above, KLANG:vier's transmitting channels 17-40 are the ADAT thru channels. We also routed Out 5 L/R to TF's channels 25/26 to have the fifth mix available for the monitoring engineer or another musician via the TF rack.
Routing processed signals to KLANG:fabrik/KLANG:vier
In Dante Controller, you will find all Dante channels on the Yamaha TF rack's transmitting section. Channels 1-32 are the inputs you are working with on the TF itself. The other ones are directly routed from the Auxes.
Inside the TF, you can use Aux9 to Aux20 of the internal FX section and create different reverb rooms. Auxes 1-8 can be used to mix  stereo stems (for example a stereo pair for toms) if the number of inputs get too high. TF also provides four matrices for delay lines or other purposes.
TF racks auxes are all routed post Fader, like this: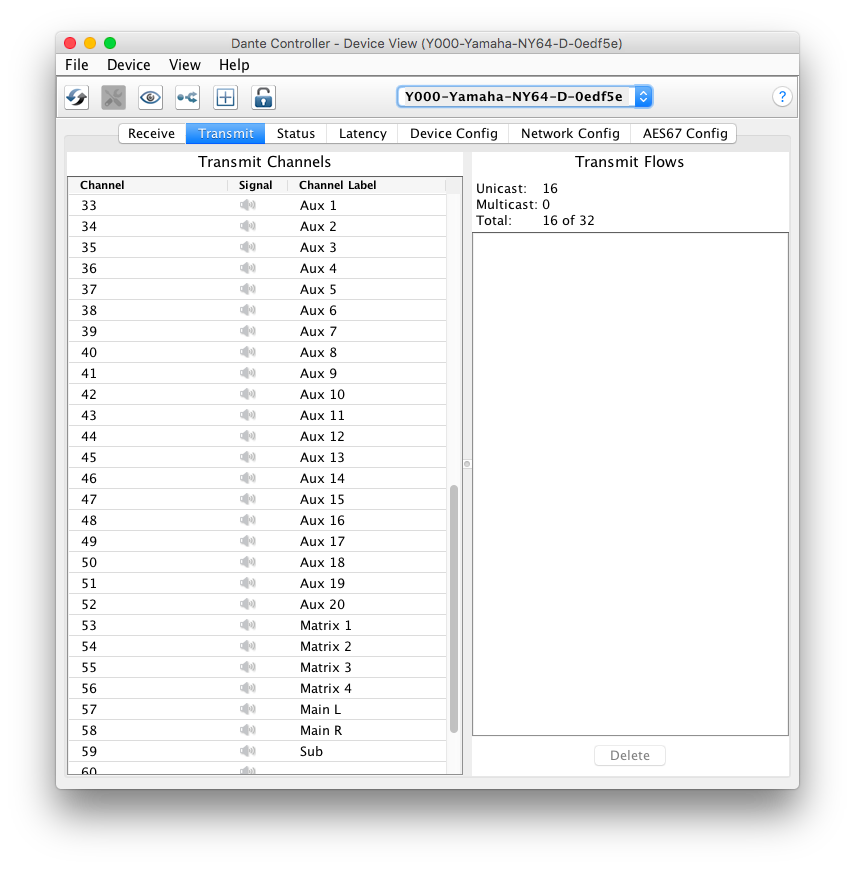 Choose where in the signal chain you want to get the mixing signals
The TF lets you choose whether your direct outs should be Pre DG (digital gain), pre HPF (high-pass-filter), Pre Fader (eqs and dynamics) or Post ON (Post Fader). For monitoring purposes with KLANG, it's mostly a good choice to select Pre Fader.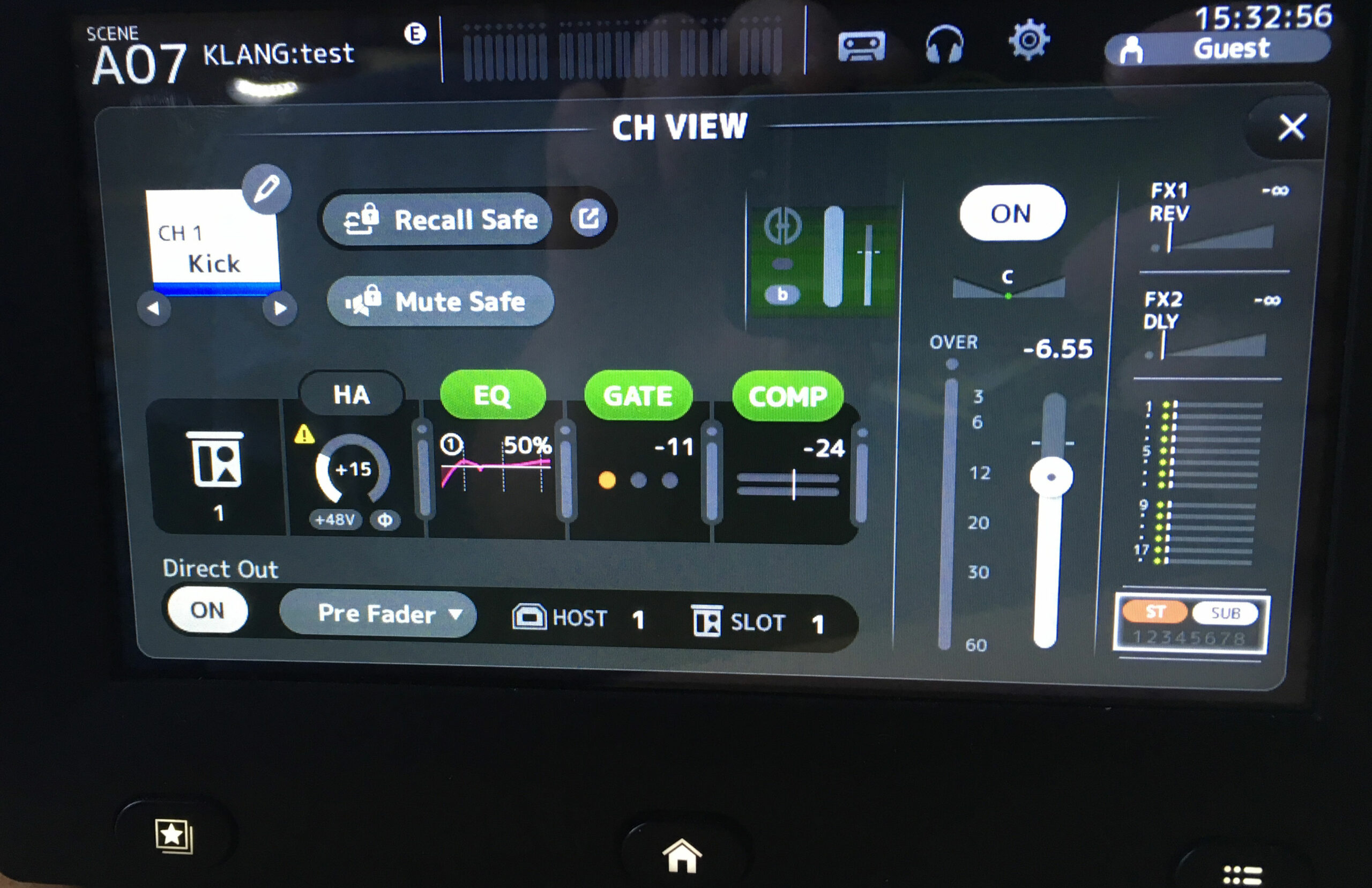 KLANG TF Rack preset
We prepared a 32inputs mixing template with Pre Fader configuration and Plate-Rev (Dante channels 43-44), Delay (45-46) and the fifth mix from KLANG:vier coming in on channels 25/26 and going out on TF omni out 1/2.
Just copy the KLANGpreset.tff on a USB pen drive and load the settings onto your TF by clicking the rack-wheel icon on the top of your screen and selecting Save/Load on the SETUP screen.