DMI-KLANG
DMI-KLANG is a powerful Immersive In-Ear Mixing Expansion for DiGiCo Consoles and DiGiCo OrangeBox.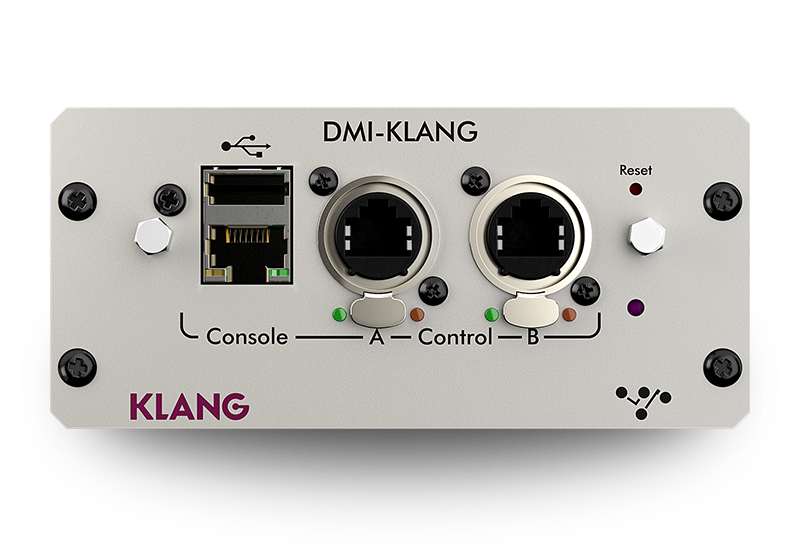 DESCRIPTION
Following in the footsteps of KLANG:fabrik, DMI-KLANG is the first hardware product after KLANG and DiGiCO joined forces. KLANG took their immersive mixing core and build it with todays latest FPGA technology. The ultra fast and powerful FPGA architecture enables 16 immersive in-ear mixes for 16 musicians of 64 input channels single and double speed sampling rates at a processing latency of a quarter of a millisecond.
Integrated into a DMI card it connects directly to DiGiCo SD and Quantum console's internal audio stream without any additional hardware IO or overhead. Route any audio channel from your console to DMI-KLANG and return the mix to the Aux merge input. Via the DiGiCo KLANG console link you can stay in usual mixing workflow, use your snapshots, faders and knobs, but with all the benefits of immersive in-ear mixing. Mounted into a DiGiCo OrangeBox the DMI-KLANG can be connected to any console with e.g. MADI (Optical, TP, BNC), Optocore, Dante and many other available DMI expansion cards. Or it can be installed in KLANG:konductor for additional processing.
This unrivaled mixing capability makes DMI-KLANG the perfect companion for any monitor engineer who needs to deliver better mixes with lower levels to their artist. If you are looking for further on-board flexibility with MADI, Dante, ADAT or our revolutionary root/intensity-EQs, please take a look at our other rack mounted immersive processors.
Testimonials
"With so many shows, it's more important than ever to carry a system like KLANG, which is much more relaxing to listen to and greatly reduces ear fatigue. When given a choice, a Quantum5 loaded with a DMI-KLANG card will always be my go-to."
Pitbull –
Matt Holden – ME for Pitbull
"Prior to having KLANG in our setup, we had to pause rehearsals for several minutes at a time to request mix changes. Now we're able to give our full attention to music. The band has full control and the vocal team has access to our stage manager to discretely and quickly get their mixes right without pulling focus or interrupting the flow of rehearsal."
First Baptist Church Woodstock –
Cliff Duren – FCBW's Worship Pastor
"I always had a hard time using in ears, but from the moment Fred implemented the 3D mix, I could finally close my eyes and hear space. I really enjoy it and can hear all instruments and vocals clearly, doing their thing in exactly the right place."
Selah Sue –
Selah Sue – Singer & Songwriter
"KLANG is ideal for flawless 3D in-ear monitoring without any perceived latency."
Slobodan Trkulja/Balkanopolis –
Milos Djajic – Sound Engineer for Slobodan Trkulja
"I started to hear elements that would usually disappear in the mix, it was amazingly full of detail. Everything that was on KLANG had to go down in level."
Sigur Rós –
Throstur Albertsson – ME for Sigur Rós
"KLANG has taken out so many unknowns and given us so much more consistency. Now, we can focus on making the show better from night to night, rather than just being in survival mode and just trying to make it through the gig without anything catastrophic happening."
Wilderado –
Justin Kila – Drummer for Wilderado
"For the first time ever, I could hear music and other vocalists at the same time. The KLANG system truly gave me the ability to get the perfect mix."
Kyle Cammack –
Kyle Cammack – Broadmoor Vocalist
"With KLANG, we can turn it down overall onstage, and the band doesn't have to run through things as often to get it to where it feels right. Everyone on this tour has been playing rock and roll for decades, and it's inevitable that some of them may have experienced some hearing loss. In-ear monitors can really help avoid making that worse, and the level of control that KLANG provides enhances that further. I tell all the bands I work with, especially the up-and-coming ones, protect your hearing now. KLANG is a great way to do that."
Ted Bible –
Ted Bible – ME for Def Leppard
"The KLANG 3D In-Ear Monitoring is a great concept and the iPad app is very intuitive and natural way of controlling what just might be the next leap in In-Ear Monitoring. "
Pasi Hara –
Monitor Engineer (System Of A Down, SLASH Feat. Myles Kennedy and the Conspirators)
See all testimonials
Support, Guides, Tech specs and webinars
Watch tutorial videos or download technical documentation.
Support documents
Where to buy
Find a local dealer or rental partner in your area.
Where to buy
You may also be interested in