DMI-KLANG
DMI-KLANG is a powerful Immersive In-Ear Mixing Expansion for DiGiCo Consoles and DiGiCo OrangeBox.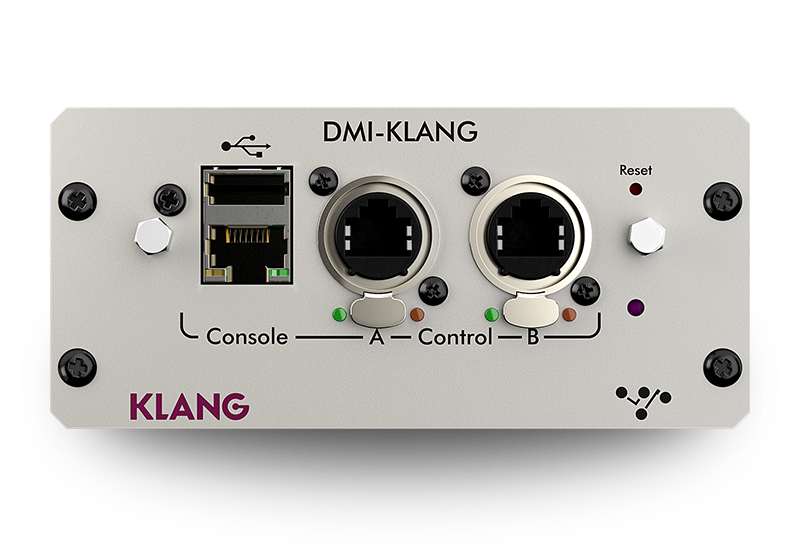 DESCRIPTION
Following in the footsteps of KLANG:fabrik, DMI-KLANG is the first hardware product after KLANG and DiGiCO joined forces. KLANG took their immersive mixing core and build it with todays latest FPGA technology. The ultra fast and powerful FPGA architecture enables 16 immersive in-ear mixes for 16 musicians of 64 input channels single and double speed sampling rates at latency of a quarter of a millisecond.
Integrated into a DMI card it connects directly to DiGiCo SD and Quantum console's internal audio stream without any additional hardware IO or overhead. Route any audio channel from your console to DMI-KLANG and return the mix to the Aux merge input. Via the DiGiCo KLANG console link you can stay in usual mixing workflow, use your snapshots, faders and knobs, but with all the benefits of immersive in-ear mixing. Mounted into a DiGiCo OrangeBox the DMI-KLANG can be connected to any console with e.g. MADI (Optical, TP, BNC), Optocore, Dante and many other available DMI expansion cards. Or it can be installed in KLANG:konductor for additional processing.
This unrivaled mixing capability makes DMI-KLANG the perfect companion for any monitor engineer who needs to deliver better mixes with lower levels to their artist. If you are looking for further on-board flexibility with MADI, Dante, ADAT or our revolutionary root/intensity-EQs, please take a look at our other rack mounted immersive processors.
Testimonials
"With KLANG, we can turn it down overall onstage, and the band doesn't have to run through things as often to get it to where it feels right. Everyone on this tour has been playing rock and roll for decades, and it's inevitable that some of them may have experienced some hearing loss. In-ear monitors can really help avoid making that worse, and the level of control that KLANG provides enhances that further. I tell all the bands I work with, especially the up-and-coming ones, protect your hearing now. KLANG is a great way to do that."
Ted Bible –
Ted Bible – ME for Def Leppard
"The KLANG 3D In-Ear Monitoring is a great concept and the iPad app is very intuitive and natural way of controlling what just might be the next leap in In-Ear Monitoring. "
Pasi Hara –
Monitor Engineer (System Of A Down, SLASH Feat. Myles Kennedy and the Conspirators)
""Klang 3d is a game changer! It gave me the sense of "reality" I was missing when using only in-ears, and opened the doors to a whole new level of sound quality. Consequently, at age 66, I'm experiencing the best stage sound of my entire career." "
"It's very user friendly and takes just a few minutes to get set up. Once it's patched, I'm basically unaware of it. I have the icon on my computer screen showing where everything is but it doesn't actually affect the way I mix – it's just there, set, creating lots of lovely space!" Becky Pell Me Jeff Wayne's War of the Worlds"
Becky Pell –
The War of the Worlds – Monitor Engineer
"KLANG gives you a set-up option right out of the box that lets you get moving quickly and reliably, lets you see what you're doing at a glance—the ability to color-code and group things really helps that—and makes the entire system very easy to understand and use. The sound really is great—that was a comment that everyone had right from the start. They were hearing themselves as they never had before."
Coltyn Cooley – Church Technical Director –
Brandon Conn – Senior Audio Engineer
"We know it sounds good out here, but now they can hear just how good it sounds on stage!"
Lakewood Baptist Church –
Coltyn Cooley – Church Technical Director
See all testimonials
Support, Guides, Tech specs and webinars
Watch tutorial videos or download technical documentation.
Support documents
Where to buy
Find a local dealer or rental partner in your area.
Where to buy
You may also be interested in