DMI-KLANG
DMI-KLANG is a powerful Immersive In-Ear Mixing Expansion for DiGiCo Consoles and DiGiCo OrangeBox.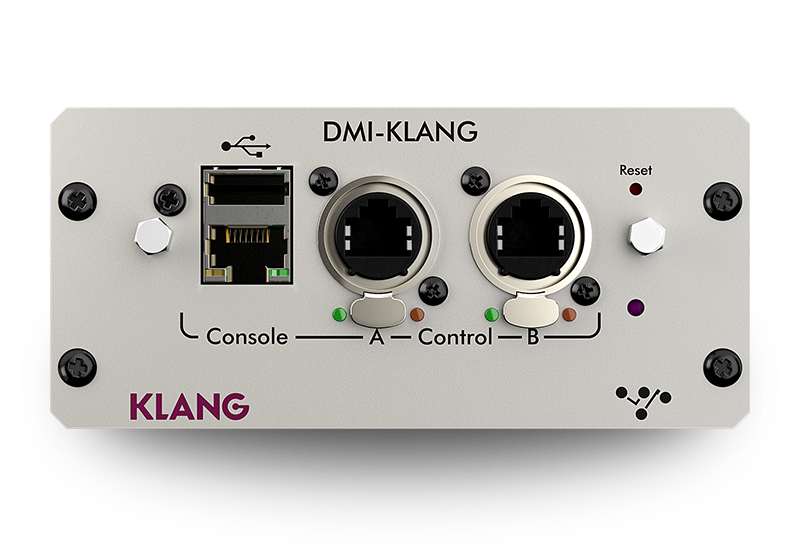 DESCRIPTION
Following in the footsteps of KLANG:fabrik, DMI-KLANG is the first hardware product after KLANG and DiGiCO joined forces. KLANG took their immersive mixing core and build it with todays latest FPGA technology. The ultra fast and powerful FPGA architecture enables 16 immersive in-ear mixes for 16 musicians of 64 input channels single and double speed sampling rates at a processing latency of a quarter of a millisecond.
Integrated into a DMI card it connects directly to DiGiCo SD and Quantum console's internal audio stream without any additional hardware IO or overhead. Route any audio channel from your console to DMI-KLANG and return the mix to the Aux merge input. Via the DiGiCo KLANG console link you can stay in usual mixing workflow, use your snapshots, faders and knobs, but with all the benefits of immersive in-ear mixing. Mounted into a DiGiCo OrangeBox the DMI-KLANG can be connected to any console with e.g. MADI (Optical, TP, BNC), Optocore, Dante and many other available DMI expansion cards. Or it can be installed in KLANG:konductor for additional processing.
This unrivaled mixing capability makes DMI-KLANG the perfect companion for any monitor engineer who needs to deliver better mixes with lower levels to their artist. If you are looking for further on-board flexibility with MADI, Dante, ADAT or our revolutionary root/intensity-EQs, please take a look at our other rack mounted immersive processors.
Testimonials
"The whole 3D aspect of KLANG has brought a new level of clarity onstage, while simultaneously helping to lower the overall IEM levels. It's not an exaggeration to say that DMI-KLANG has changed everything for the better."
Lionel Richie –
Lorin White – Monitor Engineer for Lionel Richie
"It's been a journey to get him on in-ears over the past few years; he's indicated that they don't always feel natural, and he's been prone to popping one or both of them out. But when we added the KLANG system in rehearsals, as soon as we threw up the ambience mics in his ears, we found that he'd leave his IEMs in all day, which was a great sign. It meant that everything just felt 'real' and he was enjoying himself. That was achieved with KLANG."
Burna Boy –
Duriel Mensah – Monitor Engineer for Burna Boy
"It wasn't an option for me to go back to traditional stereo mixes. Everyone is really pleased with the KLANG system. It has provided Soprano and his musicians a much-needed sense of space in the monitor mix, resulting in a more natural soundscape. Why on earth would we ever change that?"
Soprano –
Pascal Rossi – Monitor Engineer for Soprano
"Ultimately, there is no reason not to use KLANG as it offers nothing but benefits. Once you begin utilising the 3D mixing capabilities and experience the immersive space it creates within your mix, there's no turning back. The expansion it provides, particularly when dealing with mixes containing numerous clicks, sequencers, and a vast array of keyboards, is truly immense. It's truly a life changer!"
David Bisbal –
Ian Alvarez – Monitor Engineer for David Bisbal
"I noticed that the mixes were becoming stale and they were regularly experiencing ear fatigue. They had stereo mixes, but they were sounding one-dimensional. They needed more space and dimensionality in their monitor mixing. I'd heard about the KLANG:konductor and checked out a demo at AVLX, and I loved it. I thought it was exactly what we needed."
Community Bible Church –
AJ Lebron – CBC's Director of Audio and Production Coordinator for Events
"To me, KLANG is like installing a secret door where you normally 'hit a wall' trying to finesse an IEM mix to be the most useful, comfortable, and most importantly, inspiring and musical. Right where you think you can't do much better with everything going on in a mix, the KLANG door opens"
Luke Combs –
Michael Zuehsow – Monitor Engineer for Luke Combs
"KLANG has made my life so much easier, and it's been a game-changer for keeping artists happy on stage. After all, if they're happy, I'm happy!"
Sarah Brightman –
Lewe Redlin – Monitor Engineer for Sarah Brightman
"The KLANG system noticeably improves sound quality, allowing for greater precision and control that leads to more dynamic performances. As someone who has experienced the advantages first-hand, I strongly encourage everyone to give it a try, as the benefits are evident right from the first song."
Santiano –
Ravi Rai – Monitor Engineer for Santiano
"The KLANG technology is taking something that's already special and making it even more so. As you can tell in how we applied the DMI-KLANG processor to the streaming broadcasts, we like to take chances and experiment, and in this case, it created something truly remarkable."
Minnesota Orchestra –
Jay Perlman – Head Audio Engineer
"Altogether, the addition of the KLANG system has been a game changer, definitely for the better, for everyone."
Olive Baptist Church –
Allen Hendrix – Director of Media Production
See all testimonials
Support, Guides, Tech specs and webinars
Watch tutorial videos or download technical documentation.
Support documents
Where to buy
Find a local dealer or rental partner in your area.
Where to buy
You may also be interested in